Hollywood Wants Camera Drones, and the FAA Might Let Them Fly
By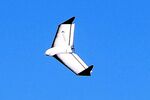 U.S. regulators may have adopted a new approach to the growth of small commercial drones. While the Federal Aviation Administration has previously ordered companies and individuals to stop flying unmanned aircraft, this week the agency said it's considering exemptions for seven film and television productions seeking to use aerial drones in their work.
The FAA currently grants such exemptions to government agencies: law enforcement, firefighters, search and rescue, border patrol, and the military. Private businesses and civilian hobbyists have so far either ignored the FAA or grounded their drones. The requests from the entertainment industry has backing from the Motion Picture Association of America, whose members have a keen interest in using drones for difficult and expensive shots—the kind that tend to require helicopters.
"If the exemption requests are granted, there could be tangible economic benefits as the agency begins to address the demand for commercial UAS [unmanned aircraft systems] operations," the FAA said in a statement on Monday. Any exemptions, the agency emphasized, will be limited to "low-risk" drone flights. Most of the commercial drones weigh under 55 pounds and fly less than 6 miles per hour.
Other industries—agriculture, power line and pipeline inspection, and oil and gas flare stack inspection—are also seeking exemptions. A review of those requests is likely to take about four months, an FAA spokesman said on Tuesday.
The agency's pace for devising rules governing drone operation has frustrated some enthusiasts, universities, and business owners, as well as entrepreneurs with plans to develop the nascent industry. Drone advocates believe that the FAA's interest in regulating the small, unmanned aircraft began as a result of the U.S. military's heavy use of drones in Afghanistan, Iraq, and elsewhere overseas amid quick growth of commercial drones at home. In 2007 regulators decreed that no one could operate an unmanned aerial system in U.S. airspace without specific permission.
Last month, a law firm specializing in commercial drone cases asked a federal appeals court to block the FAA's order barring a nonprofit group, Texas EquuSearch, from using aerial drones to search for missing people. The group had flown drones for eight years before the FAA order in February.
"An exemption process could certainly benefit industries on a case-by-case basis, but it remains completely unclear what the exemption process is and how fast it might move forward," Brendan Schulman, a New York attorney who represents the search group, said Tuesday in an e-mail. "Eligibility for an exemption could end up being very limited and therefore beyond the reach of many aspiring commercial drone operators."
Before it's here, it's on the Bloomberg Terminal.
LEARN MORE