Ford to Forgo 90,000 F-Series Trucks in Move to Aluminum
Keith Naughton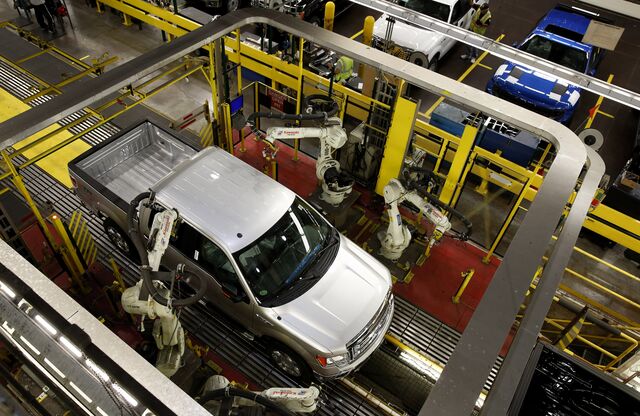 Ford Motor Co. is set to lose production of more than 90,000 of its F-Series pickups, its best-selling and most profitable model, as it retools factories for a new aluminum-bodied truck that it's betting will pay off in higher sales down the road.
The series of plant shutdowns will reduce the company's sales, market share and profits in the lucrative pickup truck market, Joe Hinrichs, Ford's president of the Americas, told reporters yesterday. To minimize disruption to supply, Ford is building up inventory of the F-Series and still expects the truck to be the best-selling vehicle line in the U.S. this year, a title it has held for 32 years, Hinrichs said.
"It's a one-time hit that we have to deal with on the production side to convert" the factories, he said at the company's product development center at its Dearborn, Michigan headquarters. "Remember, we get paid on wholesales and revenue -- 90,000 F-150s -- I won't tell you what that really means, but it's a lot."
The second-largest U.S. automaker has said profits and margins will decline this year as it rolls out a record 23 new models worldwide, including 16 in North America. The redesigned F-150 is its most critical new model as Ford outfits it with a lightweight aluminum body, which it says will significantly boost fuel economy compared with the current steel trucks.
"There isn't a vehicle that is more important to Ford than the F-Series," said Michelle Krebs, an analyst with researcher AutoTrader.com. "They're taking an enormous risk with the next-generation truck because aluminum is untested at this scale and they don't know how it will be received by customers."
Steel Predecessor
The F-Series accounts for one in five of Ford's U.S. sales and the company has said the aluminum-bodied version will be as much as 700 pounds (318 kilograms) lighter than its steel predecessor. The vehicle will also close in on 30 miles (48 kilometers) per gallon in highway driving, people familiar with the matter have said. Ford will offer the lightweight pickup with a 2.7-liter turbocharged engine, the smallest displacement powertrain in its truck lineup.
The company shut two F-Series factories in Dearborn and Claycomo, Missouri, for three weeks in the first quarter to begin preparations for the new truck. It will shut the factories for 10 more weeks this year, including three weeks next month, as it converts tooling and body shops to bend and build with aluminum rather than steel.
Draining Lots
Sales of the F-Series will drop during the transition to the new metal as a result of lost production and because the company needs to build up inventory to ensure there are no stock shortages with dealers. The company is aiming to have more than 100 days' supply of F-Series, John Felice, vice president of U.S. sales and marketing, said yesterday, which is above the industry standard of 60 days of inventory on dealer lots.
Ford will also avoid deeply discounting the current F-150 lineup so it can stockpile inventory to make it through the factory shutdowns. According to Hinrichs, Ford has lower incentives on its trucks than its competitors to avoid draining dealers' lots of their best seller.
Ford is attempting to protect profits by not discounting as much as competitors, though it still expects North America margins to fall to a range of 8 percent to 9 percent this year from 10 percent last year, he said. The company earned $989 million in the first quarter, down 39 percent from a year earlier.
'Critical Period'
Still, Hinrichs said the average price paid for the current F-150 is rising even though its design hasn't been significantly updated since 2006.
"We definitely know how to sell trucks," Hinrichs said. "If we really wanted to, we could sell a lot more trucks in the near term, but we have to manage this thing through the critical period we're in."
Last month, F-Series sales slipped 4.3 percent to 68,520, the company said in a statement today. May sales of General Motors Co.'s Silverado pickup increased 7.8 percent to 46,648, while Chrysler Group LLC's Ram truck rose 17 percent 37,131.
While Ford's transition strategy for the F-150 will mean lost share and sales, the company still expects the F-Series to be the top-selling U.S. vehicle line in 2014.
"We have to watch this thing across the whole launch period and make sure we can maintain our leadership," Hinrichs said. "We don't intend to give up a lot of share. It's just how aggressive do you go for more when you have to manage through this launch period?"
Trucks sales tend to rise in the second half of the year, when automakers merchandise "Truck Month" specials, Krebs said. "October, November and December are huge truck months," Krebs said. "So they'll need a lot of inventory."
Before it's here, it's on the Bloomberg Terminal.
LEARN MORE