With Dan Marino's Lawsuit, the NFL's Concussion Settlement Might Fall Apart
Paul M. Barrett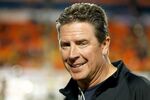 UPDATE: Oops, never mind. Dan Marino isn't suing the NFL after all. The Hall of Fame QB said it was all a mix-up, and he will scratch his name from the legal action that had electrified the football world. The South Florida Sun Sentinel first reported the bizarre reversal, and Marino explained his thinking, so to speak, in a statement to MMQB.com.
With one bomb, former Miami Dolphins quarterback Dan Marino may have blown open the National Football League's $914 million concussion settlement. The Hall of Fame player and former television analyst is one of 15 ex-NFL athletes who filed a fresh lawsuit accusing the league of hiding the risk of concussions during games.
That a superstar of Marino's stature would dissent from a pending tentative settlement of 5,000 consolidated claims against the NFL could threaten the future of that pact. A federal judge in Philadelphia refused in January to approve the massive settlement, saying she had questions as to whether all injured players would be paid adequately.
The NFL and lawyers for the ex-players said they would gather more data to demonstrate the sufficiency of the settlement. Now the Marino-led suit, combined with similar protests from former players skeptical of the settlement, could open new questions in the judge's mind. If the settlement were upset, it's not clear what would happen next. Thousands of individual suits? A replacement settlement with a larger dollar value? No one knows.
Marino, meanwhile, doesn't seem in the mood for compromise. "The NFL has actively concealed and/or aggressively disputed any causal connection between concussions in NFL football and brain injury or illness," he and the other former players said in their complaint, which was dated May 28 and came to light on Monday. Bloomberg News offers this nice summary:
Marino and the other former players allege the NFL, knowing about the increased risk of head injuries, allowed players to use their helmeted heads to block, tackle and ram their opponents. Until 2011, the league denied any connection between concussions and long-term chronic brain injury, according to the complaint, also filed in Philadelphia. … The former players seek unspecified damages and medical monitoring. Brian McCarthy, a spokesman for the NFL, declined to comment on the complaint.
A legal contest that—until recently—appeared to be nearing its conclusion will now go into overtime.
Before it's here, it's on the Bloomberg Terminal.
LEARN MORE