Can Seattle's Minimum Wage Politics Work in Other Cities?
By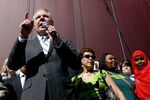 "Seattle makes labor history" blares the full-page headline of the city's hometown paper. The Seattle Times was spreading the news that the City Council approved a $15 minimum wage, the highest citywide pay guarantee in the U.S. The $15 threshold has been a rallying cry for activists, and their victory serves as a powerful example to lawmakers elsewhere: "Seattle did it. Why can't you?"
Whether other cities will emulate Seattle depends on several factors. The agreement came together with remarkable speed because Seattle Mayor Ed Murray appointed a committee of labor, business, and community leaders to hash things out on their own with a firm deadline. Should the group fail to negotiate a deal, the mayor said, he would put forward his own plan with features that would make both sides unhappy. The looming deadline for everyone was to head off a battle of ballot initiatives in the fall, which could have been both costly and bruising.
Not every state has the type of binding ballot proposals that posed a real threat if talks had collapsed. About three weeks after the Seattle committee announced it had reached a deal, Chicago Mayor Rahm Emanuel named 18 members to a similar task force charged with studying a higher wage floor in the city, current set at the statewide limit of $8.25 an hour. The famously hard-charging Emanuel gets to "look like he's taking steps on the hot-button issue without risking alienating business organizations opposed to being required to pay workers more," according to the Chicago Tribune. While a statewide referendum on a $10 wage is already in the works, even a positive result would be advisory rather than binding, which removes some of the gravity that helped Seattle's negotiators reach an agreement.
Additional western states have ballot measures matching those in Washington. Activists in several Bay Area cities, including San Francisco, are pushing ballot initiatives to increase the minimum wage to $15 an hour. Like Seattle, the region has a growing economy that has increased concern about inequality. San Francisco Mayor Ed Lee has said he supports raising the city's pay floor, currently the country's highest.
In an interview on Monday, Howard Wright, a Seattle business leader who co-chaired the mayor's committee, said Seattle's City Council rushed the bill to a vote in part because of rumors that San Francisco is on the brink of proposing a wage hike to around $15 an hour—but without certain concessions Seattle's business community won in terms of phasing in higher pay. Wright said he and the council feared that this would set a new bar that could unravel their compromise.
Seattle also lacks much in the way of mega-retailers and major fast-food chains, so the largest national companies weren't involved in negotiating the compromise. Murray told me last month that the fast-food industry had wanted a seat on the committee he appointed, but he had countered by insisting on including representatives of fast-food workers as well. Both sides were "unwilling" to agree to that, the mayor said. While the local chamber of commerce was represented on the committee, big-box and national employers not headquartered locally weren't directly involved. "Our Seattle-based businesses did not want them in because they would only inflame the situation," Murray said. (Franchisees of national brands plan to sue Seattle over their classifications as large employers that will get less time to phase in higher pay.)
Don't forget that Seattle is quite progressive, too. Voters recently elected a socialist council member, Kshama Sawant, who had campaigned specifically on a $15 wage and who led the charge on the left among members of the mayor's committee. So many factors converged to make Seattle a trailblazer that its path will be tricky to follow.
Before it's here, it's on the Bloomberg Terminal.
LEARN MORE