Brookstone Won With $173 Million Bid by Chinese Buyers
Michael Bathon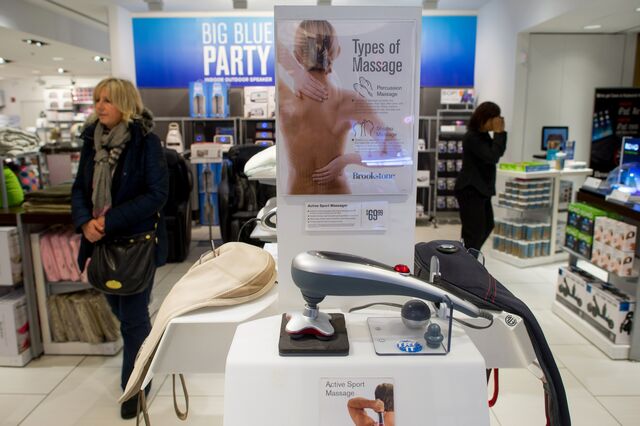 Brookstone Inc., the bankrupt luxury-gadget retailer, agreed to sell its assets to a group of Chinese buyers for more than $173 million, after they outbid a unit of Spencer Spirit Holdings Inc. at an auction, a lawyer said.
A company backed by Chinese retailing conglomerate Sanpower Group and Hong Kong-based private-equity firm Sailing Capital won the auction yesterday after Brookstone decided they had submitted the highest and best bid, Cathy Hershcopf, a lawyer for unsecured creditors, said in a phone interview.
The winning bid fulfilled the "settlement to the unsecured creditors, but they would have preferred Spencer" because its bid was "more beneficial," according to Hershcopf. The unsecured creditors disagreed that the Chinese group's bid was the "highest and best," she said.
The unsecured creditors' recovery stands to be 10 percent less under the Chinese deal because the prospective buyers may close as many as 25 stores, creating more creditors to share from the same recovery pool, according to Hershcopf.
Spencer, a novelty retailer, would close only one store, leaving each of the unsecured creditors a greater share of the $2.7 million settlement negotiated in return for supporting the plan.
Mackenzie Shea, a lawyer for Brookstone, didn't immediately return a phone call and e-mail seeking comment on the auction. The Wall Street journal reported the results of the bidding earlier.
Court Approval
The deal is scheduled to be presented for court approval at a hearing in Wilmington, Delaware, on June 23, when the company will also seek approval of its plan to exit bankruptcy protection.
Brookstone, based in Merrimack, New Hampshire, filed for bankruptcy April 3 with a deal to sell its assets to Spencer for about $146.3 million. Brookstone struggled to adapt to a retail landscape where online competitors dominate and consumers are cutting back on nonessentials.
The company started as a catalog business in 1965, offering "hard-to-find tools" before opening its first store in 1973 in Peterborough, New Hampshire, according to its website. Most of its 242 locations in the U.S. and Puerto Rico are in malls.
The case is In re Brookstone Holdings Corp., 14-bk-10752, U.S. Bankruptcy Court, District of Delaware (Wilmington).
Before it's here, it's on the Bloomberg Terminal.
LEARN MORE