Yandex to Start Moscow Trading in Addition to New York
Ilya Khrennikov and Ksenia Galouchko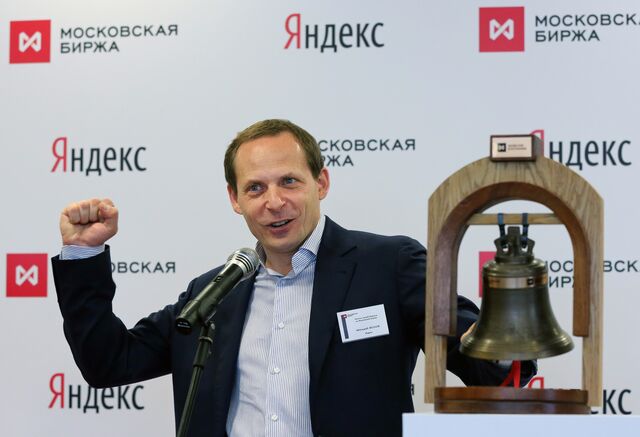 Yandex NV, Russia's largest search-engine operator, added a Moscow stock listing, broadening its investor base and conforming with the government's campaign to get local companies to cut dependence on foreign bourses.
Yandex will start trading on the Moscow Exchange tomorrow in rubles under the ticker YNDX. The company said the local debut, adding to its New York listing in 2011, has been in the making since last year to meet Russian investors' demand. No new stock will be sold. The shares jumped as much as 3.6 percent in New York today and were up 2.1 percent at 12:09 p.m.
Still, the move comes just weeks after Deputy Prime Minister Igor Shuvalov urged Russian companies to delist from overseas bourses and trade in Moscow in an effort to safeguard them as international sanctions mount against the country after its takeover of Crimea. With Russia locked in the worst standoff with Western countries since the Cold War, President Vladimir Putin is also seeking to impose greater control over information flows through the Internet.
"A Russian listing diversifies Yandex's risks in the event of further sanctions for Russian companies trading in the U.S., which was a concern for investors," Alexander Vengranovich, an analyst at Otkritie Capital in Moscow, said by e-mail. "The company shows its loyalty to the government by getting a Russian listing."
The U.S. and European Union have threatened to widen sanctions to target Russia's economy and penalize Putin for annexing the Black Sea peninsula, as well as push Russia to reduce violence wracking easternmost Ukraine.
Spurring Interest
Yandex started to work on a Moscow listing in 2013 and made the plan public in February this year, spokesman Ochir Mandzhikov said by phone. Sberbank CIB and Morgan Stanley advised the company.
"The listing will broaden the company's shareholder base internationally and stimulate investor interest," Chief Executive Officer Arkady Volozh said in a statement.
Yandex will have access to new investors, including Russian retail clients and funds that couldn't invest in its shares trading outside the country, Volozh told reporters today at the Moscow bourse, where he rang the opening bell. Yandex may get included in the MSCI Russia Index, Vengranovich said.
The company also said today it may boost its stock-repurchase program by 3 million shares. Yandex shares declined 27 percent in New York this year through yesterday.
Mail.ru, X5
The Moscow Exchange began talks with Yandex and other companies about local listings in December after reforming its trading infrastructure, the bourse's CEO Alexander Afanasiev said today. Afanasiev cited Qiwi Plc, Lenta Ltd. and Polymetal International Plc as examples of other Russian companies that have started trading in Moscow after overseas debuts.
Mail.ru Group Ltd., a Russian operator of social networks and Internet games, said in February it plans to list shares in Moscow in addition to London to attract more investors. Evraz Plc, the Russian mining and metals company part-owned by billionaire Roman Abramovich, is studying the option of listing in Moscow, the company said in an e-mail.
Polyus Gold International Ltd. said in April it hasn't made a decision regarding a possible Moscow listing. X5 Retail Group NV, which trades in London, has no immediate plans for a Russian listing, said Gregory Madick, head of investor relations.
VimpelCom Ltd. has no plans to list in Moscow, spokesman Artem Minaev said by e-mail. CTC Media Inc. is "closely following all relevant developments" and currently has no plans for a Moscow listing, spokesman Igor Ivanov said by e-mail. TCS Group Holding Plc doesn't "rule out considering" a secondary listing in Moscow in future to broaden its investor base, spokeswoman Darya Ermolina said by e-mail.
Yandex Lead
E-mailed requests for comment to Mail.ru and O'Key Group SA, all of whose shares trade outside Russia, weren't immediately returned.
Yandex dominates Russian Web searches with 62 percent of the market in the first quarter, compared with global leader Google Inc.'s 27 percent, according to Moscow-based researcher LiveInternet.ru. Though Yandex has its main offices in Moscow, it is based in Amsterdam.
"If the main part of the company's business is in Russia, it makes sense to do a Moscow listing because the company can appeal to the domestic investor base," Kirill Yankovskiy, director of equity sales at UralSib Capital, said by phone.
Office Searched
Putin singled out Yandex in April, saying the government should figure out if the company needs additional licensing as a media outlet. Russian prosecutors searched the office of electronic payments operator Yandex.Money last month seeking evidence of potential fraud by activists who raised funds for opposition leader Alexey Navalny.
This month, Yandex elected Herman Gref, Putin's ally and CEO of Russia's largest lender, OAO Sberbank, to its board. Sberbank bought control in Yandex.Money last year for about $60 million.
"We believe momentum built behind the decision following a recommendation in April that Russian companies move trading to Moscow," Mitch Mitchell, an analyst at BCS Financial Group, said in a note today.
Before it's here, it's on the Bloomberg Terminal.
LEARN MORE