pursuits
The Third Man in the Icahn-Mickelson Probe: A Sports-Betting Titan
By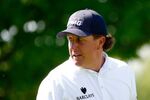 Most everyone had heard of Phil Mickelson, perhaps the most famous professional golfer after Tiger Woods, even before he was publicly implicated on Friday in a federal insider-trading investigation. The same goes for Carl Icahn, the famous investor also named as part of the inquiry. The third name to come up in the probe is a bit more mysterious: William "Billy" Walters, a professional gambler who is said to be under investigation as a potential leaker of nonpublic stock information obtained from Icahn and shared with Mickelson.
Walters grew up without indoor plumbing in Kentucky and went on to amass a Wall Street-caliber fortune by betting on professional sports in the cavernous gambling palaces of Las Vegas, the only venues in the country where such gambling is legal. Through an elaborate operation, which he showed off to 60 Minutes in 2011, he wagers millions of dollars on the outcomes of everything from the Super Bowl to college basketball games from inside a high-tech lair in his house.
Anonymous minions run around the casinos placing the bets on his behalf so that the bookmakers don't know Walters is involved. His gambling shop is eerily hedge fund-like: Walters employs consultants, analysts, number crunchers, and experts to feed him information and intelligence he can use to make his decisions. He was one of the first people to use computer algorithms in sports gambling.
Walters also has a longtime, avid interest in golf. Through his company, the Walters Group, he now owns several golf courses in addition to car dealerships and stock holdings. He and Mickelson reportedly know each other from playing golf together.
Walters appears to be less of a fan of Wall Street, which he says makes Las Vegas casino culture look like a bastion of transparency. "I've been swindled out of quite a bit of money on the stock market," he told Lara Logan on 60 Minutes. "I bought a lot of Enron stock once and I got swindled. I bought a lot of Worldcom stock, I got swindled. I bought a lot of Tyco stock, I got swindled."
Icahn, Walters, and Mickelson have not been accused of any crime and have denied wrongdoing. On Sunday night, Walters released a statement: "I am innocent of doing anything wrong," he said. "It's that simple. Those who know me best, know that it is preposterous to think that I would involve myself in insider trading." He added: "Yes, I have studied and invested in the stock market for many years and no one says anything when I lose money or when I am not successful. And certainly that's happened, like it has to many of us. But the bottom line here is, as I stated before, I'm not involved in any insider trading. I've never been involved in any insider trading."
Before it's here, it's on the Bloomberg Terminal.
LEARN MORE