The King of Spain Steps Down, and Some Twitterati Call for Abolition of the Monarchy
By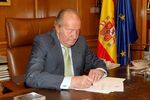 Spaniards got a bit of shock this morning: Spain's King Juan Carlos is abdicating and handing the throne to his son, Crown Prince Felipe. During his 39-year reign, the king was instrumental in returning Spain to democracy after the Franco dictatorship. In recent years, his image has suffered because of royal scandals during the financial and economic crises that have wracked the country.
"A new generation deserves to come to the front line," the 76-year-old king, who has suffered from health problems, said in a televised statement from his palace near Madrid. "My son Felipe, the heir to the crown, embodies the stability which is the monarchy's identity."
The move shocked Spaniards, who flooded Twitter, using the hashtag #ElReyAbdica to riff on his role during the transition and poke fun at recent royal foibles, including an ill-timed elephant hunting trip to Botswana and criminal probes aimed at his younger daughter and her husband.
Others on Twitter urged a referendum to end the monarchy.
Many also used the news to reiterate their take on Catalonia's ongoing push to secede from Spain. But handing the reins over won't make a difference one way or the other to the effort, says William Chislett, an analyst at think tank Elcano Royal Institute in Madrid and the author of Spain: What Everyone Needs to Know. "The Catalan problem is going to roll on for years," says Chislett.
Spain's cabinet will meet on Tuesday before the parliament approves a law to complete the abdication process, Bloomberg News reported today.
Chislett says the king's son has "been trained up for the job for God knows how many years" and describes him as "extremely well prepared." He notes Spain's king has fairly limited ceremonial powers and is supposed to be seen as standing above politics, adding "as far as business is concerned, it's going to make no difference whatsoever."
Before it's here, it's on the Bloomberg Terminal.
LEARN MORE