How to Stop the Global Crisis of Domestic Violence
By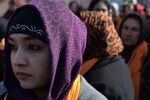 As evidence grows that U.S. colleges and universities have mishandled sexual assault cases—with a best estimate that one in five women going to college in the U.S. are sexually assaulted—a World Bank report (PDF) shows the crisis of violence against women is global. According to the report, survey evidence suggests about one in 10 women across the planet have suffered severe physical violence from their intimate partner—attempts at strangulation, burnings, threats of or actual violence using a weapon. That adds up to about 350 million people. A similar percentage reports sexual violence.
At the same time, there's reason for hope. Despite the prevalence of gender-based crimes, particularly those committed by husbands and boyfriends, it appears the trend in violence toward women may be downward—thanks in part to greater levels of overall security and changing attitudes worldwide.
The underlying factors that cause violence against women are complicated. Higher average incomes are associated with somewhat lower rates but are in no way a sufficient remedy. The share of women who report having experienced physical or sexual intimate partner violence during their lifetime is as high as 43 percent in South Asia—even in North America it reaches about 21 percent. Relative poverty within a community also plays a partial role—in Australia, indigenous women are 10 times more likely to die from assault than non-indigenous women.
Programs that give cash to women can reduce rates of violence. A study of Mexico's Oportunidades program, which gives money to mothers who keep their kids in school and attend health clinics, found those women were 40 percent less likely to experience physical abuse as a result. The evidence across developing countries suggests that women who work are about 25 percent more likely to be victims of partner violence than women who don't. While that relationship is stronger for women who work for in-kind payment, such as food, rather than cash, it suggests a paying job is no guarantee of a violence-free life.
Some of the highest rates of partner abuse are found in places where other types of violence are widespread. In 2007 in the Democratic Republic of Congo, during a brutal civil war, nearly two-thirds of women reported experiencing physical or sexual partner violence.
Cultural norms play a role. Women whose fathers beat their mothers have a 2.5 times greater risk of experiencing intimate partner violence. And that behavior remains widely condoned. In India, 94 percent of police officers agree that a husband is allowed to rape his wife. As many as 25 percent of women worldwide suggest that wife beating can be justified if a woman does something like argue with her husband or burn dinner. Women who agree with any justification for wife beating are at a 45 percent higher risk of violence than those who do not. Such statistics might help explain why only about one-half of women subject to violence subsequently seek help from any source after an attack.
The good news is that norms and attitudes are changing in ways that should help reduce violence in the future. Being married before the age of 18 is associated with an increased risk; staying in school through secondary education is associated with a one-third reduction in risk. Across developing countries, girls' secondary school enrollment has climbed from around one-third in 1990 to about two-thirds today.
Across countries, the percentage of women who believe that wife beating is acceptable has been falling, in some cases rapidly. In Burkina Faso the proportion who felt husbands could beat wives for arguing with them fell from around one-half to less than a third from 2003 to 2010. Only three countries worldwide had legislation against domestic violence in 1989; today the number is 76. In the developing countries with such legislation that were surveyed, 40 percent of women accept domestic violence, compared with 57 percent in the sample countries without legislation.
That the U.S.—a peaceful, rich country that made domestic violence a federal crime in 1996—still sees such high rates of violence against women suggests the world has a long way to go to stamp out the scourges of sexual and domestic attack. Yet each additional year that a country has domestic violence legislation in place is associated with a reduced prevalence of about 2 percent. Add declining rates of other types of violence around the planet—generally falling homicide rates and fewer civil wars—and there's reason for optimism that trends toward lower violence against women will continue.
Before it's here, it's on the Bloomberg Terminal.
LEARN MORE