Subway Is Giving Away Free Sandwiches. Will Franchisees Pick Up the Tab?
by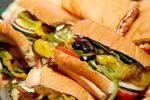 Franchise units are sometimes sold to would-be entrepreneurs as businesses-in-a-box. The entrepreneur plunks down some cash and gets the equipment and branding she needs, not to mention detailed instructions on how to run the business. Those instructions can be a lifeline for the business owner—or a leash that allows the franchiser to yank an entrepreneur's prospects in any direction.
Subway franchisees who operate shops on U.S. Navy bases were recently reminded of how closely their fortunes are tied to the corporate chain. The company, it turns out, has been printing coupons entitling bearers to a free foot-long sandwich with the purchase of a 21-ounce soda at certain locations, including naval installations in Jacksonville, Fla.; Norfolk, Va.; and San Diego. The promotion is set to run through the month of June and seems likely to get customers through the door. One problem: Franchisees could expect to lose more than a dollar on each sale.
The profit margin on a medium soda is about $1.20, says John Gordon, principal at Pacific Management Consulting Group, which focuses on the restaurant industry. The cost of goods for each sub is about $2.40. That's bad math for store owners, says Gordon: "It's a violation of the franchise agreement if you don't honor the coupons," not to mention a sure way to upset clientele. But making good on the offer means losing money.
Or maybe not. While the promotion may result in giving away thousands of free sandwiches, Subway appears to be shifting the brunt of the discounts off of franchisees. "There will be no impact to store owners or customers," says Cindy Carrasquilla, a spokeswoman for the company. Carasquilla wouldn't expand on her comment, or say who would shoulder the costs of the sub giveaway.
Whether that's good news for franchisees depends on what "no impact" means, says Keith Miller, chairman of the Coalition of Franchisee Associations, an advocacy group. "No impact in a franchisee's mind means maintaining the profit they would expect to make in a month's time in spite of the promotion," he says.
Discounted offerings have been a source of tension between franchisers and franchisees in the past. In 2009 a group of Burger King franchisees sued the chain over its decision to offer a double cheeseburger for $1. (The franchisees dropped the suit in 2011 after gaining greater input on pricing.) Quiznos, the sandwich chain that filed for bankruptcy in March, has rankled franchisees by printing coupons for free subs.
In the case of the Subway promotion, the confusion comes at a time when franchisees operating on military contracts are already feeling a squeeze. An executive order President Obama signed earlier this year requires federal contractors to pay all employees at least $10.10 an hour—and that includes restaurants that contract with the government. The average hourly pay at most fast-food joints is about $9. While an ordinary business might raise prices to offset higher labor costs, on-base eateries are contractually bound to keep prices in line with what nearby franchises charge, Gordon says.
Before it's here, it's on the Bloomberg Terminal.
LEARN MORE