The Odd Logic of Kickstarter's Glut of Slim Wallets
by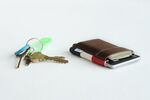 On a fall day in 2008, Jack Sutter and a friend were hanging out on a Brooklyn stoop when the conversation turned to their "broccoli wads"—the thick rubber bands they were using to hold their cash. "We were talking for way too long about how much we liked a simple wallet," he recalls. The discussion got Sutter thinking: Why not fashion his own simple wallet, using a thick elastic material on one side, like a broccoli wad, and a supple piece of leather on the other. He learned how to sew, knocked out a prototype, and began selling his homemade creations to friends, acquaintances, and cousins. Convinced he "had something," he took the project to Kickstarter in 2012 and raised more than $317,000.
Sutter's TGT (which he pronounces "tight") is but one of more than a dozen "slim" wallets to appear on the crowdfunding platform. There's the EZ Wallet, the Helone, the Thinny, the Slimtec, the Simple Wallet, and its sequel, the Simple Wallet 2.0. Some promise RFID (radio-frequency identification) shielding for consumer protection, one is 3D printed, another has an antitheft scheme that communicates with your smartphone. Every last one of them promises to be "slim."

It's become something of a theme, says Kickstarter Chief Executive Officer and co-founder Yancey Strickler, and there's a reason for that: "As we started looking into it, we realized that this was kind of the training-wheels product for a product designer."
Traditionally, that introductory product was the chair—a familiar object that teaches the basics of form and function but can be reimagined in countless ways. For the aspiring maker set, it's the minimalist wallet, which requires comparatively low upfront costs, little material, and fewer moving parts. "There are only so many ways you can screw it up," Strickler says. And the production process is a solid intro to manufacturing fundamentals such as light supply-chain management, fulfillment, and shipping. "It's basically a learning tool," Strickler says. "It's also a tangible demonstration of how many people are trying to make a manufactured good."
That explains the allure of the minimalist wallet for the sellers. Its resonance among funders—all the slim wallets on Kickstarter are funded or well on their way— points to an inefficiency in traditional retail channels. Although people don't carry around much cash anymore, stores stubbornly stock wallets with billfolds. At the same time, men's pants have grown tighter, with less room for a George Costanza-style wallet bulging with receipts.
The slim wallet's success also points to a lack of variety in a limited male accessory market. There are belts, and socks, and wallets, and that's it. "It seems that people are always willing to give a new wallet a chance," says Matt Hall, of Obstructures, who last year successfully launched a wallet comprised of two plates of aluminum held together with rubber bands.
If the slim wallet is Design 101, what's Design 201? TGT's Sutter wants to sustain his Kickstarter-based momentum with a line of tablet and laptop cases called TGT 3.0. Hall and his team have launched two successful campaigns for a pocket tool and a modular clipboard. The appeal of small-batch items, especially those with compelling origin stories, speaks to a demand for authenticity at a time when most products are made in soul-sucking Chinese factories. As such, a novel slim wallet can be a conversation starter, fashion statement, and social stance all in one. It's certainly an upgrade from a broccoli wad.
Before it's here, it's on the Bloomberg Terminal.
LEARN MORE