Gazprom's Ukraine Talks Fuel Russian Energy Stock Rally
Natasha Doff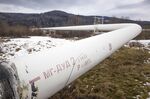 Russian energy stocks rallied in U.S. trading amid speculation that OAO Gazprom's deadline extension for natural-gas payments from Ukraine is a signal that tension is easing between the two countries.
The Bloomberg Russia-US Equity Index of the most-traded Russian companies in the U.S. rose 1 percent to 88.55 from a one-week low. OAO Surgutneftegas, the oil producer known as Surgut, was the best performer on the gauge. OAO Lukoil rallied the most in three weeks. Gazprom added 0.9 percent following a 1.7 percent rise in Moscow.
Energy stocks gained as state-controlled Gazprom extended the deadline for Ukraine to pay an estimated $1.7 billion bill after the country made its first gas payment in months. The company had demanded that the former Soviet republic pay bills up front or risk being cut off from supplies. Russia and the European Union resumed talks with Ukraine to resolve a dispute over prices.
The Russian government "seemed to be willing before to sacrifice the economy for geopolitical positioning," Gary Greenberg, an emerging-markets money manager at London-based Hermes Fund Managers, which oversees 26 billion pounds ($43.5 billion), said by phone yesterday. "Now the past few weeks of news flow seems to be indicating that the economy does matter."
Russia's dollar-denominated RTS Index has dropped 8.3 percent this year, the fourth-worst performance among 93 equity gauges tracked by Bloomberg. Stocks tumbled to a four-year low in March after President Vladimir Putin annexed Ukraine's southern Crimea region, prompting sanctions from the U.S. and European Union.
Gas Debt
Ukraine gets about half its gas from Gazprom, and about 15 percent of Europe's annual demand passes through its pipelines. Putin had threatened to cut the country off over unpaid debt. The state-controlled gas producer's Chief Executive Officer Alexey Miller said in e-mailed statements that Ukraine may avoid a move to advance payments and get a lower price by settling its gas debt by June 9. The company said it received $786 million for February and March and is still owed $1.45 billion for the last two months of 2013.
While the dispute on price will continue, yesterday's agreement sparked a "relief rally" as it signaled that the Ukraine crisis is easing, Slava Smolyaninov, the chief strategist at UralSib Financial in Moscow, said by e-mail.
"Not many people expected the beginning of the summer in Moscow to result in such a powerful move higher" in Russian stocks, Smolyaninov said.
Micex Rally
The Micex Index added 2.3 percent in Moscow yesterday, continuing a rebound to levels seen before Russia's incursion into Crimea. RTS stock-index futures expiring this month slid 1.1 percent in U.S. hours.
The gain in the Micex pushed its relative strength index to 66.3, data compiled by Bloomberg show, approaching the level of 70 that some technical analysts see as an indication that a security is poised to fall. The Bloomberg Russia-US Equity Index's RSI is 64.
Gazprom rose to $8.24 in New York. Surgut advanced 4.7 percent to $7.50, the most in two weeks. Lukoil jumped 2.3 percent to $57.85.
Yandex NV, Russia's largest search-engine operator, added 1.7 percent to $31.67. The company's stock is set to start trading in Moscow today, according to two people with knowledge of the matter who asked not to be identified before the announcement. The move coincides with the government urging companies to cut dependence on foreign exchanges.
The Market Vectors Russia ETF, the biggest U.S. exchange-traded fund that holds Russian shares, gained 0.9 percent to $25.32. The RTS Volatility Index, which measures expected swings in futures, increased 3.5 percent to 26.89.
Moscow-based United Co. Rusal, the world's biggest aluminum producer, advanced 3 percent to HK$3.40 at 11:06 a.m. in Hong Kong trading, heading for the biggest gain in a month.
Before it's here, it's on the Bloomberg Terminal.
LEARN MORE