EPA Did the Power Industry a Big Favor by Using 2005 Levels
By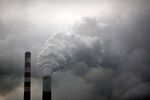 The biggest question leading up to the Environmental Protection Agency's new carbon rules for existing power plants was: How big would the government's required emission reductions be? Twenty percent? Thirty? More?
Now we have the answer. The rules, announced this morning, say that by 2030, existing plants must cut carbon emissions by 30 percent from 2005 levels. That sounds like a big number, and it's more than what reports last week predicted. But it's actually not as significant a reduction as it would seem. By reaching back to 2005, instead of saying the industry has to cut carbon pollutants from current levels, the EPA did the power industry a huge favor. Why? Because CO2 emissions from power plants have been going down for years.

In 2005, total CO2 emissions from the electric power sector were 2,416 million metric tons. That's the second-highest on record. Power plant CO2 emissions peaked in 2007 at 2,426 million metric tons. Since then, a combination of energy efficiency, a broad switch from coal to natural gas, plus the economic downturn, have brought emissions down significantly. By 2012, power plants carbon emissions had fallen to 2,034 million metric tons, 15 percent lower than in 2005. That means U.S. utilities have already "achieved" half the reductions they need to reach by 2030, without the threat of a federal mandate.
Once the rule is finalized in 2015, utilities will have 15 years to reach the other half of the mandated cuts. In all, a 30 percent reduction from 2005 levels means cutting a total of 725 million metric tons of CO2 emissions. That puts emissions at 1,691 million metric tons by 2030, or about the same amount of CO2 the power sector emitted in 1987. That's still a lot. But a true 30 percent cut, from today's levels, would have been a real achievement.
Had EPA used 2012 as its baseline, a 30 percent cut would've taken emissions down to 1,424 by 2030. It also would have made life harder for California and states in the Northeast which, through regional cap-and-trade programs, have been cutting emissions faster than the rest of the country. Alternatively, the EPA could have required a 20 percent reduction from 2012 levels. The end result would've been roughly the same: 1,600 million metric tons by 2030. But the headline wouldn't have had as much oomph.
Before it's here, it's on the Bloomberg Terminal.
LEARN MORE