An Old-Fashioned Airfare War in Seattle
by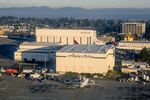 The airline battle for Seattle could finally be turning serious.
Delta Air Lines and Alaska Air Group have been skirmishing as the giant carrier builds traffic to feed its growing overseas schedule at Seattle-Tacoma International, although so far it has largely been an interesting sideshow and an anomaly in the airline industry. Few smart airlines chase market share any longer—and Delta and Alaska are both run by smart people—yet both are systematically bulking up their flight schedules and vying for Seattle passengers.
It's a fascinating business development, a throwback to the mid-1990s in its styling. And yet no one in the industry really believes Delta would decimate its financial returns on the West Coast with a glut of new Seattle service, or that Alaska will ruinously match every move Delta makes with new flights.
These are two management teams praised up and down Wall Street for their shareholder friendliness, including dividend payments. So it's hard not to wonder how far the hostilities will go. Last week, Delta announced new winter flights from the sun and ski destinations of Bozeman, Mont.; Cabo San Lucas; Calgary; Maui; Puerto Vallarta, Mexico; and Spokane, Wash.—most of them daily.
Alaska at the same time announced an 11 percent boost to its daily departures out of Seattle as it begins flying to Albuquerque, Cancún, Baltimore, Detroit, New Orleans, and Tampa in the coming months. "Alaska Airlines has been flying out of Seattle for more than half a century, and we're proud to offer our customers nearly four times the departures to more destinations than any other airline," the airline said in a statement.
Seattle is Alaska Air's home and largest hub airport, where it carries more than 53 percent of the traffic, including flights operated by its Horizon Air regional unit. The company has little choice but to defend its Puget Sound turf given the lack of options elsewhere. Yet doing so presents an enormous risk to the airline's profitability, which has been robust in recent years because of its disciplined capacity growth and the strength of its franchise in the Pacific Northwest.
The going is likely to get tougher next year as Delta's new flights take a toll, Stifel Equity analyst Joseph DeNardi said last week in a rare downgrade for Alaska Air. "We believe there may be a degree of misunderstanding amongst some investors regarding the timing of Delta's growth in Seattle with some under the impression that Alaska has already managed through the toughest periods when in fact the competitive capacity really starts to ramp up over the next few quarters," he wrote, issuing a hold rating. Given the competitive risks, DeNardi puts Alaska shares at $95, slightly below where the stock trades now. Alaska shares have gained 35 percent this year, trailing Delta's 45 percent advance.
It's possible that Delta will decide to curtail Seattle flying next year if the financial returns aren't suitable. It's also possible that the expansion is a long-term Delta strategy to make Seattle a true major international hub and that shouldering the costs to weaken a competitor will prove worthwhile. Alaska could even become a viable acquisition for a big player like Delta.
Until the Seattle end game is clear, however, investors could face a bumpy ride.
Before it's here, it's on the Bloomberg Terminal.
LEARN MORE