Carl Icahn Responds to Reports of Insider-Trading Investigation
By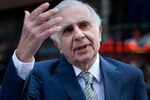 In a telephone interview with Bloomberg Television's Trish Regan, billionaire investor Carl Icahn responded to articles in the Wall Street Journal and the New York Times over the weekend suggesting he was implicated in an insider trading investigation. The investigation, which is being conducted by the FBI, the Securities and Exchange Commission, and federal prosecutors in Manhattan, also involves three-time Masters golf tournament winner Phil Mickelson and Las Vegas gambling impresario Billy Walters.
"We do not know of any investigation. Further, we are always very careful to observe all legal requirements in all of our activities," Icahn said. "We believe that making inflammatory and speculative statements, especially when we've had an unblemished record for 50 years, is completely irresponsible on the part of the Wall Street Journal."
The details that have emerged so far suggest that regulatory authorities noticed potentially improper trades placed in Clorox shortly before Icahn made a bid in 2011 to take the company. One possible theory involves Icahn telling Walters of his intentions to make a bid for the company, which would have allowed Walters to make money on the shares in advance of the news. Walters then could have told Mickelson about it. None of the three have been accused of any wrongdoing so far. "While I don't have any comment, pal, I'll talk to you later," Walters told the Times when he was asked about it.
Mickelson had stronger words on Sunday from the greens of a golf tournament in Ohio when the Journal asked him about the investigation. "I have been fully cooperating with the FBI agents, and I am happy to do so in the future, too, until this gets resolved," he said. "But for right now I really can't talk much about it."
Icahn, for his part, said: "While I have obviously heard of Phil Mickelson, I have never spoken to him or met him."
Hypothetically at least, a leaker of confidential information doesn't need to know the person who ultimately traded on it to be party to illegal trading. In many of the 85 insider-trading prosecutions and guilty pleas recently won in the Southern District of New York, the illegal trades were done by remote tippees who'd received the information second, third, or even fifth hand.
Before it's here, it's on the Bloomberg Terminal.
LEARN MORE