Can Harley-Davidson Finally Woo Women?
by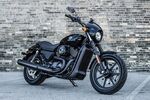 At some point in the next few weeks, Harley-Davidson will start selling two new motorcycles that look nothing like the chrome-heavy cruisers it's known for. Dubbed the Street 500 and Street 750, the bikes don't have bulbous fuel tanks swelling in front of their seats, or panniers and voluptuous fenders bulging behind them. They are also almost entirely devoid of silver—as black as a cocktail dress.
Neither model is likely to make much of an impression on the two demographics most people envision on a Harley: burly Hells Angels and doughy guys with receding hairlines and advancing midlife crises.
Harley, however, isn't worried about winning those customers; it already has them. Plus, in corporate strategy terms, the "lifetime value" of that gang is dropping by the day. What Harley wants is women—a lot of whom are already riding Harleys anyway, just not at the controls.
Women accounted for 12 percent of U.S. heavyweight motorcycle sales last year, according to the Motorcycle Industry Council. That's a market share increase of 30 percent over the past decade.
Harley won't say how many of its bikes go to female riders, but it does claim to have 62 percent of the market. If that's the case, somewhere around 7 percent of Harley bikes are going to women. This year that will be almost 20,000 hogs, if the company's sales forecast is accurate.
Efraim Levy, an analyst at S&P Capital IQ, believes Harley has a head start on its competitors simply because of its brand recognition. "Even if these women aren't bikers, they've heard of Harley," he says.
The strategy shift, however, hasn't been easy. Harley has been working to cultivate women bikers for some time. Almost eight years ago, it started hosting "Garage Parties," a nod to 1970s-era Tupperware parties in which women gather to learn some motorcycle skills, such as how to start the machine and how to right one if it falls over. More recently, Harley dealers have been offering riding instructions to rookies. The company now has about 10,000 women a year going through those programs, according to Claudia Garber, director of Harley's women's outreach marketing.
But Harley has also been fueled on a fair amount of machismo. This is a company that once ran an ad that read: "Just add ego. And go." Pinup girls have been another advertising staple, and annual bike weeks aren't exactly thick with feminists. The Sturgis Motorcycle Rally, a haven for hog fans, crowns a bikini-clad "Miss Buffalo Chip" every August.
Meanwhile, Harley's dominance in the market for big, heavyweight bikes is facing a new challenge from Polaris, which resurrected the Indian brand with a new line of bikes in August. In one of the company's ads, a guy lovingly cleans and details a dusty Harley before parking it in his driveway with a "For Sale" sign. The tag line: "Choice is coming to American motorcycles."
Of course, if Harley creates enough new bikers, it won't have to worry about losing some market share to Indian or any other outfit. Morningstar analyst Jaime Katz says she was skeptical of Harley's play for women, but she thinks executives have handled the campaign deftly, both via marketing and by carefully tailoring their bikes to different kinds of riders.
Garber, meanwhile, says independence and freedom are the values that resonate with current and potential Harley riders, not testosterone. Harley CFO John Olin had a similar—albeit more straightforward—take at a March meeting with analysts and investors: "A lot of women, I guess, like to be bad asses as well."
Before it's here, it's on the Bloomberg Terminal.
LEARN MORE