Apple Excites App Makers—and Nobody Else—at Developers Conference
by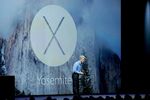 The biggest cheers during the keynote at Apple's Worldwide Developers Conference on Monday came during the introduction of a new programming language for mobile apps. So the world is still waiting for a tantalizing peep about, say, the iWatch and the future of Apple TV.
The biggest news for the kind of person who might scratch his head over the excitement about Swift, a coding language that is "objective-c without the c," were updates to Apple's operating systems for Mac and iOS devices. Here are the highlights from the first day:
• OS X Yosemite: Apple's two operating systems have been increasingly moving toward one another, and the new version of OS X software used in Macs now takes a few big steps in that direction. Through a series of features called Continuity, Macs can now make and receive phone calls through an iPhone. The company had already extended iMessage, so now Mac users will also be able to send and receive SMS messages.
• Extending Airdrop: Apple has also extended a feature called Airdrop that allows people to send documents between devices that run iOS to include Macs. Devices that are in close proximity will actually prompt people to pick up things they've started on another device. All these features have the same goal: to turn Macs into increasingly effective accessories for iPhones.
• iOS 8: Apple's mobile devices got their big facelift last year. Many of the biggest changes in iOS are related to messaging—a logical choice given the runaway popularity of competing messaging apps, such as WhatsApp. In the new version of the software, Apple has added predictive typing features that anticipate what you might say to turn all your conversations into easy multiple-choice questions. Say someone texts, "Do you want to grab dinner or see a movie?" The phone pops up two fields to choose between "dinner" and "a movie." It also adds other bells and whistles, so you can remove yourself from a group chat or add audio or video to iMessage conversations.
• HealthKit: Apple made official what had leaked in recent weeks: Siri can now recognize songs. An app called HealthKit serves as a sort of clearinghouse for health and fitness data; this allows someone to monitor her weight through a smart scale, then share that information with her Nike Fuel app. A partnership with the Mayo Clinic will also allow that information to be shared with doctors.
• HomeKit: Apple also announced a feature called HomeKit to standardize the way connected home appliances work. "We thought we could bring some rationality to this space," said Craig Federighi, Apple's senior vice president of software engineering. Apple sets a common protocol for the devices and allows iOS users to group devices together, so they can give a single command to control more than one device.
This is an event at which Apple tries to entice developers to make new apps—hence the cheers for Swift. It was the time to take a few swipes at other companies that want to win the attentions of developers.
Apple's normally staid chief executive, Tim Cook, repeatedly poked at shortcomings of Android and Windows. Half of all Macs are running the latest version of OS X, he claimed, while only 14 percent of Windows machines are running Windows 8. The numbers on mobile are even more striking: Cook says that 89 percent of Apple's mobile devices are running the latest version of iOS compared with only 9 percent of Android machines. "That means that these customers are not getting great new features, they're not able to use your great new apps, and they're not getting the security updates they need to stay safe," he said.
Before it's here, it's on the Bloomberg Terminal.
LEARN MORE