London Land Values Soaring Worsens Home Dearth, Savills Says
Neil Callanan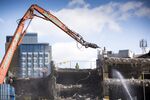 Land prices are soaring in central London, making it more difficult for developers to supply homes that residents can afford and reducing Mayor Boris Johnson's chances of alleviating the city's housing shortage.
Values jumped 25.8 percent in the year through March, compared with a 13.1 percent gain in the city's most desirable neighborhoods, broker Savills Plc said in a report today. Housing plots in the capital now cost 27 percent more than their pre-crash peak in 2007, according to the report.
"The strong recovery in the London housing market is leading to competition for a limited pool of suitable opportunities in the land market from a wide range of domestic and foreign players," Susan Emmett, residential research director at Savills, said in the report. That makes "the search for sites to deliver lower-value homes ever more difficult."
London needs 50,000 new homes a year for the next five years and 57 percent will need to cost no more than 450 pounds ($755) a square foot to be affordable to residents, Savills estimated. London Mayor Boris Johnson's plans to ease a worsening housing shortage include increasing high-density residential development in a bid to get 42,000 homes built each year, almost double last year's pace.
Land Competition
Homebuilders are bidding more for residential sites throughout the U.K. as government-supported mortgage programs boosts demand for homes, Savills said. The value of land in northern England that hasn't been previously developed rose 8.1 percent in the first quarter, the most in the country.
U.K. house prices increased for a 16th straight month in April as the government provides interest-free loans to buyers of newly built homes and mortgage guarantees to lenders.
"Housing starts are up 31 percent in the past 12 months and we estimate over 80 percent of the incremental new builds are being funded" by the interest-free loans, Morgan Stanley analysts including Huw van Steenis wrote in a May 29 research note. "By 2015, we forecast it could be responsible for a 40 percent to 55 percent increase in English housing starts compared with 2012."
Housing developers decide how much to offer for land plots based on valuations along with house prices and building costs, said Colin Sheridan, an analyst at Davy. "So when you see land values start to squeeze up, if all else is equal, you'll see lower margins for homebuilders."
Savills said values of land that's never been developed in commuter towns and larger cities in southeast England including St. Albans, Crawley and Oxford are also now above their 2007 peak.
The value of land in the north of England that hasn't been developed remains 53 percent below the peak and the price of land in towns and cities there is still 69 percent below the high point, the London-based broker said.
Before it's here, it's on the Bloomberg Terminal.
LEARN MORE