Plane Crash Kills Philadelphia Inquirer Co-Owner Katz
Jodi Xu and Alan Levin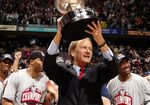 Lewis Katz, co-owner of the Philadelphia Inquirer, was killed along with six other people in a private plane crash less than a week after winning control of the Pulitzer Prize-winning newspaper.
The Gulfstream IV jet crashed about 9:40 p.m. yesterday while attempting to take off from Hanscom Field in Bedford, Massachusetts, for Atlantic City, New Jersey. Katz's son, Drew Katz, confirmed the death in a statement from the family.
Katz, 72, parlayed parking-lot and billboard businesses into a New York-region sports and media empire, including shares in the Brooklyn Nets, New York Yankees and television's YES Network. He and H.F. "Gerry" Lenfest last week won control of the Inquirer and its sister publication at a court-ordered auction. The transaction will proceed with Drew Katz joining the new company's board, Lenfest said.
"We all deeply mourn the loss of my true friend and fellow investor," Lenfest said. "It is a severe loss."
Katz was the former owner of the New Jersey Devils hockey team and the Nets basketball team, which was then known as the New Jersey Nets. He was a former member of the National Basketball Association's board of governors.
The National Transportation Safety Board is investigating the crash.
Goodwin Event
Katz had attended an event earlier Saturday at the Concord home of Richard Goodwin and historian Doris Kearns Goodwin. More than 200 people had gathered at celebration for the Concord River Institute, a school founded by their son, Michael.
"The death of Lewis and his colleagues is a crushing and devastating loss," said Michael Goodwin, who had accompanied Katz to dinner after the event.
The plane carried four passengers, two pilots and a cabin attendant, according to the NTSB. Identities of the others on board weren't immediately released. The Associated Press reported that James P. Leeds Sr., a commissioner for the borough of Longport, New Jersey, said his 74-year-old wife, Anne, died in the crash.
Former Pennsylvania Governor Ed Rendell told the Associated Press that Katz had invited him on the flight.
The plane went off the end of Runway 11, heading toward the east, according to preliminary information released in an e-mailed statement by the U.S. Federal Aviation Administration. The IV model was built by General Dynamics Corp.'s Gulfstream Aerospace Corp. of Savannah, Georgia, until production ended in 2002, according to the company's website.
Off Runway
The plane carrying Katz was owned by SK Travel LLC of Raleigh, North Carolina, according to the Federal Aviation Administration. It was built in 2000, according to the FAA's aircraft registration website.
The twin-engine corporate jet never lifted off the ground during its attempted takeoff, a witness told investigators, according to Luke Schiada, a senior air safety investigator with the NTSB. Most of the wreckage was consumed by fire, he said at an afternoon briefing.
The plane went off the paved surface, skidded about 2,000 feet (600 meters) through a field and ripped through a chainlink fence before coming to rest in a gully filled with water, Schiada said. Some parts of the aircraft, including pieces of the landing gear, broke loose as the plane went through the field and the plane struck navigation equipment.
Investigators are searching the wreckage for two crash-proof black box recorders, one that captured sounds in the cockpit and another that stored data on the plane's path, engines and pilot actions, Schiada said.
Inquirer Dispute
Katz and Lenfest had won control of the Inquirer, its Daily News sister paper, and Philly.com through a court-ordered auction valued the newspaper company at $88 million.
The auction ended months of dispute between Katz and George Norcross, a New Jersey insurance executive who led an opposing majority group, over the direction of the Inquirer. Katz, Lenfest and Norcross led a group that purchased the Inquirer in 2012 for $55 million.
The owners didn't see eye to eye on the dismissal of editor-in-chief Bill Marimow as well as potential firings of a number of top editors at the Inquirer.
Katz, in his lawsuit, said publisher Bob Hall, who he believed to have acted on behalf of Norcross, had no right to fire Marimow as the owners agreed to stay away from the editorial decisions. Marimow was later reinstated.
'Exceptional' Man
"Lewis Katz was an exceptional man, whose presence enriched the lives of everyone he came in contact with," Marimow said in a story for the newspaper.
The Inquirer, founded in 1829, has won at least 18 Pulitzer Prizes. The Inquirer and the Daily News had a common owner starting in 1969, when they were bought by Knight Newspapers Inc., a chain that no longer exists.
"I am shocked and deeply saddened to hear this terrible news," said Michael Nutter, mayor of Philadelphia in a statement today. "I just talked to Lewis on Wednesday morning to congratulate him and Gerry Lenfest on their winning bid for the newspapers."
Katz was chief executive officer of Kinney System Holding Corp., the largest operator of parking lots in the New York area, from 1990 until its sale in 1998. He also was former chairman of Interstate Outdoor Advertising Co., the Cherry Hill, New Jersey-based billboard company that his son, Drew, took over in 1999. Drew Katz is Interstate's CEO.
The long-time philanthropist supported education and medical organizations in his hometown of Camden, New Jersey, as well as in Philadelphia. Last month, Temple University announced it would name its medical school after Katz, who had donated $25 million. Penn State University also named a building in his honor in 2009.
"This is an incalculable loss for Temple, for Philadelphia and for all those who knew and cherished their relationship with Lewis Katz," Neil D. Theobald, Temple's president, said in a statement.
Before it's here, it's on the Bloomberg Terminal.
LEARN MORE