GPIF's $200 Billion Bombshell to Aid Abe Inflation
Kevin Buckland and Shigeki Nozawa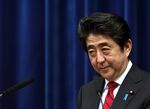 Prime Minister Shinzo Abe's inflation drive may get a boost as Nomura Holdings Inc. forecasts as much as $200 billion in foreign asset purchases by Japan's pension funds will weaken the yen.
Nomura predicts a selloff of local bonds by the $1.3 trillion Government Pension Investment Fund will depreciate the nation's currency by about 10 yen against the dollar over the next 12-18 months, while Mitsubishi UFJ Morgan Stanley Securities Co. estimates an 8 yen slide. GPIF and other public pension funds will shift an additional 12.4 trillion yen ($122 billion) into foreign bonds and 7.5 trillion yen into overseas stocks, according to Nomura's "upside scenario."
The yen's 18 percent drop last year helped push inflation to a five-year high in December by increasing the cost of fuel imports. Price growth has since stalled as the yen rebounded and the Bank of Japan refrained from expanding its unprecedented easing. GPIF's reshuffling may come as early as this month, when Abe delivers a growth strategy update to parliament.
"If the GPIF bombshell drops at the right time, dollar-yen could top 110 within this year," Daisaku Ueno, the Tokyo-based chief currency strategist at Mitsubishi UFJ Morgan Stanley, said in a May 29 phone interview. "With Prime Minister Abe pushing hard for change, and the market expecting something, it's difficult for GPIF to reply with nothing in June."
Yen Depreciation
Mitsubishi UFJ Morgan Stanley's official forecast is for the yen to end the year at 108.5 per dollar, with any effect from GPIF revisions being additional to that. Nomura predicts it will weaken to 112, including an initial 3-4 yen from GPIF reallocations. The median estimate of 79 strategists polled by Bloomberg News is for 108 yen per dollar at year-end, from 101.99 yen as of 2:36 p.m. in Tokyo today.
Nomura recommends selling the Japanese currency against a basket of currencies including the U.S. dollar, British pound, Norwegian krona, Mexican peso, and Polish zloty, predicting a return of about 5 percent over three months, according to the bank's London-based foreign-exchange strategist Yujiro Goto.
"Expectations for a GPIF announcement by the end of this year are quite high, but not for June," Goto said in a May 30 phone interview. "We expect a positive surprise from a June announcement that can send dollar-yen higher," including an initial gain as high as 105, he said.
Price Growth
Japan's inflation reached 1.3 percent in December, the most since October 2008, and remained unchanged through March. An increase in the sales tax in April pushed core consumer prices up 3.2 percent that month, a pace of growth unseen since 1991.
GPIF is under pressure to boost returns as pension payouts surge for the world's oldest population. The fund is waiting for the results of a five-yearly health ministry review of its portfolio allocations. Japan's benchmark 10-year bond yield has dropped 15 1/2 basis points, or 0.155 percentage point, this year to 0.58 percent, the world's lowest level.
The pension fund will probably cut its local bond holding target to 40 percent from 60 percent of assets, according to the majority of respondents in a separate Bloomberg survey of 10 fund managers, strategists and economists last month. It will raise targets for foreign stocks to 17 percent and foreign bonds to 14 percent, from 12 percent and 11 percent respectively, according to the median of estimates.
Historical Move
"Even with forecasts for additional BOJ easing getting pushed back, dollar-yen is being supported above the 100 level by expectations that GPIF will expand holdings of foreign assets," Manabu Tamaru, a fund manager who helps oversee about 500 billion yen of fixed-income assets at Baring Asset Management Japan Ltd., said in a phone interview on May 29. Baring predicts GPIF will reduce domestic bond holdings to 35 percent, the most aggressive cut among the survey's respondents.
This would be only the second time in its history that GPIF has altered its portfolio. The fund raised allocations to foreign stocks from 9 percent and foreign bonds from 8 percent on June 7 last year.
Japanese investors may have begun acting before the expected changes at GPIF. They were net buyers of foreign bonds for a fifth week in the period ended May 23, the longest streak this year, according to Ministry of Finance data.
"The allocation will have an impact on the exchange rate, especially as part of the government's more aggressive growth policy, it would be the first time to see specific numbers," said Akio Kato, the team leader of Japanese debt in Tokyo at Kokusai Asset Management Co. "It will be interesting to see the reaction of overseas investors."
Before it's here, it's on the Bloomberg Terminal.
LEARN MORE