Soccer's Ronaldo Appalled by Brazil's World Cup Buildup
Tariq Panja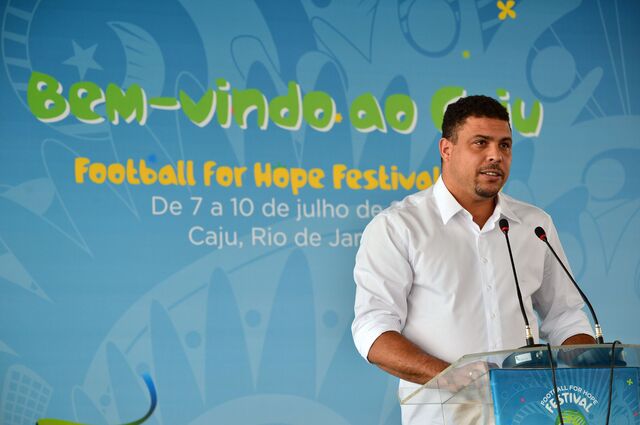 World Cup organizing committee member Ronaldo, who scored more goals at soccer's showpiece than any other player, said he's appalled by Brazil's preparations for sport's most-watched event.
Brazil is spending $11 billion on the monthlong tournament, including more than 8 billion reais ($3.6 billion) on stadiums, three of which remain incomplete with less than two weeks to go. In addition, several transportation and road improvement projects have been scrapped or delayed.
"It's a shame, I feel appalled," Ronaldo, 37, said in comments published by the Folha de S. Paulo newspaper. "Serious planning was lacking for everything to have been delivered. We had time -- seven years."
Brazil was engulfed by the biggest protests in a generation during a warmup tournament last year, with demonstrators arguing money earmarked for the World Cup should have been spent on health and education improvements.
Ronaldo, who scored both goals when Brazil won its record fifth World Cup in 2002, said he thought only 30 percent of the works unrelated to stadium construction had been completed.
Ronaldo scored 15 goals at World Cup tournaments, one more than Germany's Gerd Mueller.
With 11 days to go until the first game in Sao Paulo between Brazil and Croatia, the atmosphere in the country is muted, with limited displays of the green and yellow national colors compared with previous years.
"Whether they decorate the roads or not, what exists in the heart no one can take," defender David Luiz, pointing at his own heart, said in a televised news conference.
An attack by protesting teachers this week on the team bus as it left for its training camp close to Rio de Janeiro isn't indicative of widespread animosity toward the team, Luiz said.
"All the places we've been, people have shown love and treated us well," he said. "The people of Brazil love football and they love the Brazilian team."
Before it's here, it's on the Bloomberg Terminal.
LEARN MORE