pursuits
Why Sitcom Savior Kevin Reilly Lost His Job Running Fox
By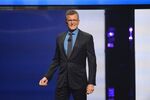 Loyalty to highly regarded, yet relatively under-appreciated, programming is an admirable quality in a broadcast TV executive. It is also a hazardous one. Just ask Kevin Reilly.
Twenty-First Century Fox announced on Thursday that Reilly would be stepping down as the head of entertainment at Fox, bringing to an end his seven year run with the network. On one level, Reilly's departure is not much of a surprise. The ongoing cratering of American Idol has dragged the network down in recent months, dropping it to second place this past season, behind a rejuvenated NBC. And executive reshuffling higher up in the corporate hierarchy pretty much ensured that changes were coming to the under-performing broadcast unit.
"At the Fox Network, we continue to face challenges," Chase Carey, the parent company's president and chief operating officer, acknowledged during a recent conference call. "While the sports side continues to be strong, the performance of the entertainment network remains disappointing." Translation: You might want to ask facilities management for some moving boxes, pronto.
Still, for fans of a certain genre of network television—critically acclaimed half-hour comedies with humdrum ratings set in New York—Reilly's departure may feel like a bad, summer rerun. Seven years ago in May, it was executives at NBC who were announcing they were letting go of Reilly as their network's head of entertainment amid struggling ratings. At the time, assessments of Reilly's tenure at NBC tended to credit him with one breakout prime time drama (Heroes) and his strong support for a number of highly-regarded but lower-rated series (including 30 Rock and Friday Night Lights).
The post-game analysis of Thursday's ouster sounded many of the same notes—crediting Reilly's time at Fox for a breakout prime time drama (Sleepy Hollow) and his strong support for a number of highly regarded but lower-rated series (including The Mindy Project and Brooklyn Nine-Nine).
Over the past year, Reilly has been particularly vocal in backing Brooklyn Nine-Nine, despite lukewarm ratings. In October he announced that Fox would air an episode of the comedy, starring Andy Samberg, in the coveted slot following the Super Bowl, giving the series a huge burst of national exposure. Even so, Brooklyn Nine-Nine finished the past season averaging only 4.8 million total viewers, making it the 98th-most-popular broadcast show of the season, according to Deadline Hollywood's rankings.
Thanks to Reilly's support, Brooklyn Nine-Nine will be back next season. Reilly, on the other hand, will not.
In the end, his departure is a reminder that despite all the talk of convergence between the broadcast and cable and streaming-TV ecosystems, supporting niche programming—no matter how original or adroit—remains a perilous strategy in broadcast.
So far, Fox has yet to name a new entertainment chief. There are many strong candidates in the running. Whoever gets the job, we're guessing that this time around, Reilly's replacement won't be Ben Silverman.
Before it's here, it's on the Bloomberg Terminal.
LEARN MORE