West Africa Leaders Meet as Nigeria Says Violence Threatens Gain
Pauline Bax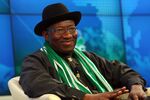 West African presidents will meet in Ghana today to discuss Islamist violence in the region after Nigerian President Goodluck Jonathan said attacks in Africa's largest economy threaten his nation's democratic gains.
Heads of state of the Economic Community of West African States will discuss "issues of urgent concern, including the security situations in northern Mali and parts of Nigeria," in Accra, the capital, Ghanaian President John Dramani Mahama's office said in a statement. Jonathan has already met twice in Paris and Johannesburg this month with neighboring countries to discuss rising violence.
Nigeria is struggling to ward off almost daily attacks by Boko Haram Islamist militants that have killed more than 4,000 people in the last five years. The group kidnapped more than 200 schoolgirls from the northeast last month on the same day it set off the deadliest bomb attack in the capital, Abuja. The attacks have spilled over into neighboring Cameroon, where foreigners including Chinese and French citizens have been abducted by suspected militants this year.
Jonathan said militants had unleashed a war against Nigeria and were trying to bring down its democracy 15 years after the start of civilian rule.
Six Malian government officials and more than 50 soldiers were killed in northern Mali this month in an attack by separatist that have received support from armed groups linked to al-Qaeda. Mali is seeking to restore stability in the north after separatist rebels and Islamist militants seized half of the country's territory last year, before being pushed back by a French air and ground offensive.
Before it's here, it's on the Bloomberg Terminal.
LEARN MORE