The Architectural Relics of World's Fairs
Photographer Jade Doskow spent seven years exploring the grounds of former international expos.
By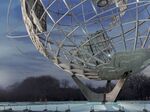 Half a century since New York's fascinating-but-unsanctioned World's Fair of 1964, a new photo exhibit explores what the site, and many other former World's Fair sites, look like today.
World's Fairs: Lost Utopias, now showing at New York's Onishi Project, is the work of Jade Doskow, who's spent seven years traveling to and photographing the grounds of international expositions from the past. The results show a frozen-in-time glimpse of each host nation's ambitions at the time.
One month since Philip Johnson's New York State Pavilion was designated a "National Treasure" by the National Trust for Historic Preservation, the '64 Fair understandably dominates the exhibit. But the full depth of Doskow's international project is worth a closer look.  
From the nature-loving Flight Cage in St. Louis to the science-inspired Atomium of Brussels, Doskow's photographs bring out the optimism in each piece of architecture she finds, the kind that often becomes more endearing with age.
We caught up with Doskow via email to find out why she's so fascinated by World's Fairs and how the symbolism of their architecture often changes with time:
How did you first develop an interest in World's Fair sites?
I have always been attracted to architecture whose initial purpose has either passed or transformed into something new. The architecture of World's Fair sites captures this and much more; it reflects utopian ideals of a very specific time period as designed by the world's most imaginative architects and artists.
The impulse to begin such a huge project has a few roots---initially, I was simply on a vacation in Seville with my family and we happened upon the 1992 World's Fair site, a hodgepodge of mediocre fair architecture, rocket ships, and public terraces overgrown with weeds and beer cans. Not only was the site itself quite bizarre, but the juxtaposition of these white pavilion buildings right across the Guadalquivir River from old Seville was quite striking, as was the fantastical Calatrava Bridge connecting these two worlds.
I also happened to be entering my second year of graduate school at the School of Visual Arts in New York, in 2007; this provided the perfect safe 'structure' to try out this huge idea.

How long have you been photographing them?
My first real pictures from the project are from May 2007. Once I decided to seriously pursue this line of investigation, I spent a month in Europe with my sister as my assistant, 400 sheets of 4x5 film and a wooden Wista field camera.
I was not much of a large-format architectural photographer when I left, but I immersed myself in that first month of work and even today still include some of those early photographs in the collection. I am now nearly completed with all of the North American sites, and then will be going on to Phase II and III of the project, Europe and Asia (and possibly Australia, we shall see!)
You've organized your collection into separate sections for the 19th and 20th century World's Fairs. Any particular reason?
While all World's Fairs had a major focus on cultural achievements, the architecture of much of the 19th century sites look back toward Neo-Classicism while the majority of the 20th century sites are much more forward- and future-looking.
Of course, there are exceptions. The Eiffel Tower was created specifically to represent the superiority of France in 1889; citizens at the time found the Tower gaudy and vulgar. It was quite provocative at the time, and definitely future-looking in its design.
A great example of a 20th-century futuristic utopian design is Habitat '67 in Montréal by Moshe Safdie when he was just 23 years old for the 1967 Montréal Expo. Habitat is an excellent example of utopian urban residential design and people still live there!
As you've traveled to more and more of these places, how has your view of what a World's Fair represents changed?
I have developed a much more profound understanding of what these sites mean to the cities in which they are located. While initially I simply described the variety within the photographs as the 'arbitrary nature of what we choose to preserve or discard on an urban site,' it is much richer than this.

For the most part, these are large plots of land often on the edges of cities, and there is constant planning and discussion of how these sites, once temporary, can permanently offer a positive and thought-provoking public space for visitors and locals.
In some instances, it is taking a phenomenal piece of unusual architecture, such as the 1958 Atomium in Brussels, and renovating and refinishing, and then creating a dynamic museum inside that celebrates mid-century design and the design of the thing itself.

Another direction is public art on these sites that responds to the original fair architecture or landscaping, such as in my photograph St.Louis 1904 World's Fair, "Louisiana Purchase Exposition," Roxy Paine Tree with Olmsted Tree, 2013. I have come to really love the conversation that happens between these grand, classical fair sites and the things that happen in the here-and-now that responds to the spirit of these places.
Are there common architectural or cultural themes that seem to carry over from each event to the next?
The exhibit that is opening this week is a great description of this idea, the common theme or zeitgeist of a period. Every decade or 20-year period there is an arc of movement that happens due to worldwide events and inventions, whether it's a war, the invention of electricity, or a masterpiece in the art world, and these arcs are clearly reflected in the World's Fair sites.

In the architecture and art from the 1960s, there is a boldness and inventiveness that is not apparent in any other era. Just within the photographs on view in the exhibit one can experience Philip Johnson's New York State Pavilion, Buckminster Fuller's Geodesic Dome, Alexander Calder's large-scale stabile sculpture L' Homme, and Moshe Safdie's Habitat '67.
Is there one site you're particularly fond of or compelled by? If so, why?
I would again mention the 1904 St.Louis site. It is one of the few places where the Great Basin---a massive, terraced lawn leading down to pools, fountains, and sculptures---is still completely intact, and it was an incredible thing to experience, as the idea of the Great Basin was a constant at many of the 19th century sites (and early 20th).
I channeled the 19th Century panoramic photographers to capture the Great Basin in its immensity; the resulting photograph will be between 10 and 15 feet long to fully present the scale. 
Also on this site was the Flight Cage, now part of the St.Louis Zoo, and one of (if not the longest) free-flight aviaries in the world. It is an odd, long, low structure, and quite abstract when viewed in just the right way. When I was on this site it was rainy and quiet and the plantings around the zoo and the park embraced this structure visually in a magical way. When a site offers such abundant variety and uniqueness in new and old development it is an exciting and rich visual experience for me as an artist.







World's Fairs: Lost Utopias (curated by Kipton Cronkite) is on exhibit at Onishi Project (521 W. 26th Street) from May 28 to June 10 . All images courtesy Jade Doskow.