Schools Are Failing to Get Many Kids to Eat Healthy, GOP Says
By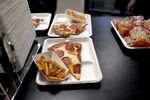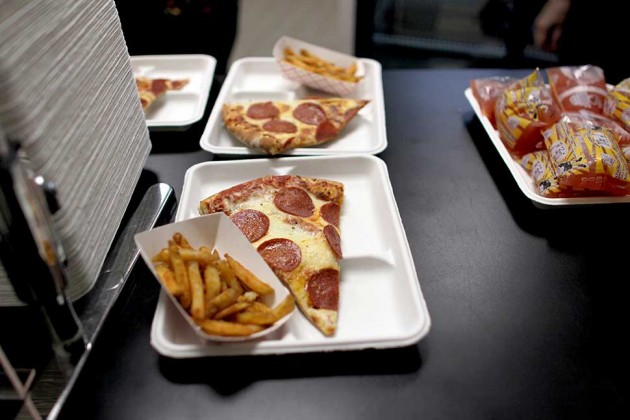 Despite Michelle Obama's efforts to improve childhood nutrition and combat obesity, schools are failing to get kids to eat healthier, according to House Republicans. Rules (PDF) that started rolling out in 2012 to require schools that participate in the National School Lunch Program and the School Breakfast Program to add fruits and vegetables to meals, include whole grains, and reduce salt and fat in those foods haven't been popular, they say.
On Thursday the House Committee on Appropriations passed a budget bill (PDF) that would allow schools whose food programs have been losing money for six months to apply to opt out of the nutritional guidelines for 12 months. That would mean a temporary pass on mandatory fruits and vegetables, as well as the calorie, sodium, and fat limits. It would also let schools delay implementing guidelines requiring healthier snacks, which go into effect in July.
Adding significant amounts of produce to meals is expensive; students who don't like the new meals are dropping out of the lunch program (which means less revenue for it); and kids who stay in the program are just trashing their veggies anyway, according to the committee.
"Schools from across the Nation have expressed concern with increased food costs and plate waste coupled with decreased participation in the National School Lunch Program," an Appropriations Committee report says.
Schools need more time to figure out how to serve kids healthy products and recipes they're actually willing to eat.
A study of 18 elementary schools found that as much as 70 percent of fruits and vegetables that were added to meals ended up in the trash. The School Nutrition Association—which represents both school food administrators and food manufacturers—says many kids find the unfamiliar brown, whole-grain tortillas, pasta, crackers, and biscuits unappetizing. The group supports the bill and is asking the U.S. Department of Agriculture to reevaluate even stricter sodium and whole-grain requirements that are planned, as well as the mandatory fruit and vegetable rule.
The challenge is making the healthy stuff taste better than the rest of the menu, and let's be honest: The bar is pretty low for existing cafeteria food. (Even when salty pizza or Jamaican patties were on our trays, some days my friends and I would leave the lunchroom agreeing that the pineapple cup was the best part of the meal.) Small tricks can help. Kids, for instance, are far more likely to eat sliced apples than whole ones—it seems some think it's just not cool to bite into a whole fruit, and those with braces simply find it too difficult.
If schools can get kids to sit down and learn algebra, surely they can find creative ways to encourage them to eat baby carrots.
Before it's here, it's on the Bloomberg Terminal.
LEARN MORE