Scary Statistic: China May Have 1 Billion Drivers
Bloomberg News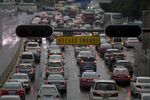 If Beijing's bumper-to-bumper traffic looks scary now, imagine this: one billion Chinese drivers.
That's the number of people that Shi Jianhua, deputy secretary-general of the state-backed China Association of Automobile Manufacturers, forecasts could have driving licenses in the country in the next 10 to 15 years. There were about 280 million last year, according to the Ministry of Public Security.
While having a license doesn't necessarily lead to owning a car, the estimate is a reminder of the magnitude of the challenges Chinese policy makers face in battling air pollution and traffic congestion. Major cities from Beijing to Shanghai have imposed quotas on new cars, pitting the clamor of urban residents for clean air and smooth-flowing traffic against their own aspirations to own their first cars.
China currently has enough roads and related infrastructure to accommodate at most 300 million vehicles, Shi said at a forum in Beijing today. The number of civilian vehicles will rise to 200 million units in 2020 in China, from 127 million last year, according to CAAM.
The flood of new drivers may prove to be a boon for car rental companies in China, an industry that's at the "starting and exploring stage," Shi said. Rental cars currently account for about 10 percent of total passenger vehicles, he said.
— With assistance by Tian Ying
Before it's here, it's on the Bloomberg Terminal.
LEARN MORE