Pimco's Paul McCulley Salutes Fed For U.S. Escape From Trap
Sree Vidya Bhaktavatsalam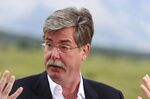 Paul McCulley, who returned to Pacific Investment Management Co. this week in the new role of chief economist, said the U.S. may be heading for a period of reduced volatility after former Federal Reserve Chairman Ben S. Bernanke and his successor Janet Yellen pulled the economy out of a liquidity trap.
"A salute to Ben and Janet and team for getting us out of a trap," McCulley, 57, said today in an interview with Tom Keene and Michael McKee on Bloomberg Surveillance. As the U.S. enters a new phase and the Fed starts raising interest rates, "we could enter a new quiet period because we won the war against inflation."
McCulley, credited with coining terms such as "shadow banking" to describe financial networks outside of traditional banks and the "Minsky Moment," or a sudden collapse in market values bloated by credit, returned to Pimco for a third stint this week, reporting to Chief Investment Officer Bill Gross, 70. Pimco is bolstering its team after naming six deputy CIOs in the biggest leadership shakeup in its history in January, following the departure of former Chief Executive Officer Mohamed El-Erian.
In his new role, McCulley is a member of the firm's investment committee, spending up to 100 days a year in Pimco offices around the world. He won't manage any client money.
'Unambiguous' Signal
McCulley today reiterated his support for Pimco's "new neutral" theme. The firm this month outlined its outlook for the next three to five years, forecasting that global growth rates are converging toward lower, more stable top speeds and interest rates will be stuck below their levels prior to the 2008 global financial crisis. The term "new neutral" was used by Bloomberg News in a story on global interest rates published March 17.
"The signal is unambiguously that the new neutral thesis is real," McCulley said.
In 2010, McCulley praised the Fed for acting "irresponsibly" relative to conventional wisdom to reverse an economy mired in a liquidity trap, where borrowing or lending may not be stimulated because of a shortfall in demand.
The Fed's unconventional policy pushed borrowing costs to record lows and helped fuel a five-year stock market rally that pushed some markets to new highs.
"I don't think the equity markets are cheap, but I also don't think it has profound bubble tendencies," McCulley said. "I believe the equity market is fairly valued."
Before it's here, it's on the Bloomberg Terminal.
LEARN MORE