Manhattan's Most Conspicuous Luxury Tower Inspires Upstarts
by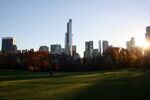 Another sign of the success of Extell Development's ultra-luxury One57 tower in Manhattan: Rival developers are rushing to complete competing towers in the same area south of Central Park.
Three such buildings are rising on once-unfashionable West 53rd Street, just four blocks south of the svelte superstructure that has become a favorite of hedge fund managers and foreign billionaires. The newcomers are not as tall as the 90-story One57 property, but they have some of the same trimming.
One of the copycats is the Baccarat Hotel & Residences, a 50-story tower under development on West 53rd Street and Fifth Avenue, across from the Museum of Modern Art. Mark Gordon, a managing partner of Tribeca Associates, which is behind the the Baccarat along with Barry Sternlicht's Starwood Capital Management, concedes that his building can't match the vertical reach of One57. But in the time-honored New York developer style, Gordon tells Bloomberg that this is actually a selling point: "Not everybody wants to live in the tallest building in Midtown. Buyers love that they only have to share the building with 59 families."
The views at the Baccarat presumably leave something to be desired compared with those at One57. Still, more than half of the 60 units have sold for prices ranging from $4 million for a one-bedroom to $60 million for a two-floor penthouse.

Some real-estate experts warn of an oversupply of luxury dwellings in the area—and Extell plans to contribute to it. The developer is building a second tower that will soar even higher than One57. Extell President Gary Barnett isn't worried about running out of buyers. Not with the sweeping Central Park views he has to offer. "That's the money shot," he told the New York Times last fall. Those 53rd Street upstarts will have to make do without them.
Before it's here, it's on the Bloomberg Terminal.
LEARN MORE