NQ Mobile Rises After Increasing Revenue Forecast
Ye Xie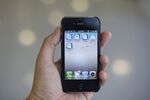 NQ Mobile Inc., the Chinese mobile-service provider that short-seller Carson Block has accused of overstating revenue, gained the most in six weeks after increasing its sales forecast and selling a stake in a subsidiary.
The American depositary receipts rose 12 percent to $7.59 in New York on May 30, the steepest one-day gain since April 15. It was the best performer on the Bloomberg China-US Equity Index, which fell 0.7 percent. NQ Mobile is still down 67 percent since Block, founder of Muddy Waters LLC, called the company "a massive fraud" in October.
NQ Mobile expects unaudited first-quarter revenue to be above its previously estimated range of $75 million to $76 million, according to a May 30 statement distributed by PR Newswire. It projected second-quarter sales between $83 and $84 million, compared with the median forecast of $79 million by three analysts surveyed by Bloomberg. The company said in a separate statement that it is selling a minority stake in its FL Mobile gaming subsidiary for as much as $25 million.
"The reality is that the company is crushing it," Taek-Geun Kwon, chief investment officer of Toro Investment Partners LP, a San Francisco-based hedge fund that holds NQ Mobile shares, said by e-mail. "The fundamentals are as strong as that of any company in the sector in China or anywhere. The earnings guidance is proof of that."
NQ Mobile sank 39 percent last month after delaying the release of its audited 2013 financial report for a second time as it waits for the final results of a probe into Block's allegations. The Bloomberg index of the most-traded Chinese stocks in the U.S. advanced 3.1 percent in May to 102.15, the steepest monthly gain since February.
Stake Sale
The Beijing-based company didn't provide an update on the investigation, which is being led by the law firm Shearman & Sterling LLP and auditor Deloitte & Touche Financial Advisory Services Ltd. Block declined to comment, according to an e-mailed response to questions from a Muddy Waters spokesman.
NQ Mobile said it has agreed to sell as much as 5.88 percent of FL Mobile, which distributes mobile games, to Bison Mobile Ltd., a division of Bison Capital Co. Ltd. and other investors that it did not name. The buyers have a right to sell the stake back if FL Mobile doesn't complete a qualified initial public offering within 12 months after the sale, according to the statement.
The deal values FL Mobile at $425 million, compared with the market capitalization of NQ Mobile of about $469 million. While NQ doesn't disclose the revenue contribution from its subsidiaries, sales from mobile games amounted to $21 million in 2013, or about 11 percent of NQ Mobile's total revenue, according to the company's unaudited financial statement on April 10.
'Underlying Value'
"The investment in FL, which represents a minority of NQ's revenue, was done at a valuation that is roughly equal to the enterprise value of NQ Mobile in totality," Toro's Kwon said. "It's further third-party validation of the quality of the business NQ is building and the deep underlying value in its share price."
NQ Mobile's second-quarter sales forecast is more than double the $41.4 million it posted last year, according to the statement. Chief Executive Officer Henry Lin said in the release that the company has remained focused on its business during "a period of distractions."
Before it's here, it's on the Bloomberg Terminal.
LEARN MORE