Is the U.S. Government Extorting the Banks?
By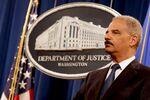 The rapidly escalating price tag for French bank BNP Paribas to resolve a criminal investigation into its dealings with sanctioned countries highlights how little leverage some banks have in negotiations with the U.S. government.
The most recent potential fine, reported by the Wall Street Journal, is $10 billion, which would be accompanied by a guilty plea. It would be the second-largest fine ever extracted from a bank, trailing only the $13 billion JPMorgan Chase agreed to pay to resolve civil charges that it misrepresented the value of mortgage securities leading into the financial crisis.
"I'm not saying it's technically extortion," former prosecutor Douglas Burns said on Bloomberg Television last week. "But it is a gradation." He later added: "You can destroy a company just by charging them."
A criminal indictment has the potential to force a bank to go out of business, or drive a foreign bank from the U.S. market. In BNP's case, that could be devastating—and it provides a strong incentive to pay whatever amount the government demands to resolve the case. The idea of temporarily barring BNP from conducting transactions in U.S. dollars has reportedly been floated by Benjamin Lawsky, head of the New York State Department of Financial Services, which would have more serious ramifications than a fine alone. The investigation involves Lawsky's office as well as the FBI, the U.S. Attorney's Office in Manhattan, the New York district attorney, and the Department of Justice.
The Justice Department took criticism after its settlement last week with Swiss bank Credit Suisse, which agreed to pay $2.6 billion in fines and plead guilty to tax evasion for helping wealthy Americans shelter money. Soon after, it became clear that Credit Suisse will survive and carry on almost as if nothing happened, with waivers from regulators that allow it to continue its business in the U.S. Reports suggest that Credit Suisse Chief Executive Officer Brady Dougan was "nearly" fired but will in fact keep his job.
 
The U.S. government seems intent on exacting a harsher penalty in the BNP case, albeit one that won't cause harm to the broader financial system. One way it could have done so would have been by going after individual bankers, but apparently it's too late. As the Journal reports:
"Prosecutors are unlikely to charge senior executives at the bank, people familiar with the matter said, in part because a five-year statute of limitations for pursuing individuals has expired on most of the conduct under investigation, which allegedly occurred from 2002 to 2009."
Instead, the huge fine BNP will likely end up paying will be borne by the company's shareholders.
Before it's here, it's on the Bloomberg Terminal.
LEARN MORE