Foreign Companies Hold Sway in Cambodia's Minimum Wage Politics
by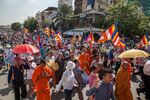 Companies don't usually want to be seen pressuring the countries they operate in. They might note what they need, attend meetings to discuss their concerns, and offer support for any hint of change. But of course, they do have quite a bit of power.
Consider the recent events in Cambodia, where the textile industry has become the country's largest employer.
Strikes to demand a higher minimum wage ($160 a month) for garment workers ended in violence in January, and at least five people died. Twenty-three workers and labor activists were arrested for instigating the violence.
"We can see frequent industrial conflicts coming here," an H&M representative told the Cambodia Daily in February. "We need a sourcing country that is predictable [and] stable." During the spring, Levi Strauss cut back on its orders to Cambodia because of the risk of more trouble and more disruption, according to the Wall Street Journal.
H&M, Levi, Gap, and other companies met with government officials in Phnom Penh this week to discuss their concerns about political unrest. Afterward, Levi spokeswoman Amber McCasland said the company supports the government's efforts, which "should lead to the announcement of a new minimum wage as soon as possible."
On Friday the Cambodian high court convicted the workers and activists—and then gave them suspended sentences and freed them. "The verdict today is clearly connected to the political situation and pressure from the big brands," said Am Sam Sath of the rights group Licadho.
So maybe the next news will be, as the Levi spokeswoman suggested, an increase in the minimum wage for the 700,000 or so garment workers.
Before it's here, it's on the Bloomberg Terminal.
LEARN MORE