pursuits
Erika James, First Black Woman to Lead a Top Business School, on the Corporate Diversity Problem
By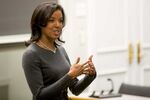 When Erika James takes over as dean of Emory University's Goizueta Business School next month, it will mark the first time a black woman has led a top-25 business school.
James arrives from the University of Virginia's Darden School of Business, where she taught leadership courses and led the school's executive education programs as senior associate dean. Her time at Darden also included a stint as the school's first associate dean of diversity, a role in which she fostered conversations about diversity in the classroom setting.
Here's one talking point: 13.3 percent of MBAs receiving degrees from U.S. schools in the 12 months ended June 30, 2012, were black, according to the U.S. Department of Education. That's roughly in line with the black population in the U.S. (13.1 percent in 2012, according to the Census Bureau). But at the elite business school level, there's an apparent diversity problem. School-level data on race are hard to come by, but in 2005, a survey of 24 top business schools, including Goizueta, showed that 4.4 percent of students were black, according to the Journal of Blacks in Higher Education.
In a recent interview, James told Bloomberg Businessweek about her background, her goals for the new job, and the responsibility she feels to make business school more accessible for minority groups. An edited transcript of the conversation follows.
What does it mean to you to be the first black woman to lead a top-25 business school?
It's certainly a privilege and an honor to be in this position. It's also a significant responsibility and quite honestly a shame that in 2014 we're looking at the first African American woman to hold this kind of position. It's a responsibility for me to create an environment and a context that makes business school a viable option for racial minorities or women or others who have not traditionally been included.
Why aren't there more black MBA candidates?
Business education and the business field in general can be perceived as pretty elusive. It's so big, and there are so many opportunities and pathways that a person can take. There's an ambiguity to it that you don't have with a law degree. If you go to law school, you become a lawyer. If you get an MBA—there's not such a thing as becoming a businessperson. We need to do a better job educating the population that business school is a real opportunity.
More broadly, what are your goals as dean?
We're in the business of serving the business community. Atlanta is a mecca for corporate headquarters, and I want to make sure that we're building strong relationships with those companies, in terms of Emory being seen as a go-to source for talent and connecting companies with our research faculty. On some level, all companies are struggling to think about their own needs for talent and leadership, and I want to make sure our faculty is actively connecting with the practicing community.
Much of your work has focused on what you call "crisis leadership." What got you interested in the subject?
My interest was born out of my work on the subject of diversity. When I was working on my dissertation, I explored the notion of workplace discrimination and class-action lawsuits. I realized that leaders of organizations challenged by those issues exhibit the same characteristics of leaders in crisis. It was often a very reactive response: Something would happen and the organization would need to galvanize around it. I wanted to understand how to prepare for crisis and learn from it after the fact.
You haven't suffered from a shortage of material. Have executives gotten better at leading through a crisis since you started your research?
My interest coincided with the time of Enron and Worldcom and all of these business scandals. There's a capability for enlightened leaders to be mindful of what's happening in the broader context and take lessons, either for prevention or to deal with similar issues. The fact that we continue to see so many companies in crisis indicates that in general they're not giving as much credence to educating themselves as I'd like.
What about promoting diversity—have businesses improved in that area?
I think many organizations have a greater self-awareness, and I see more organizations attempting to create environments of inclusion. The business community is vast, and some organizations are farther down the path, while others are still more nascent in their efforts. As they become more global, they're having to deal with stakeholders and consumers and competitors all over the world.
Should Goizueta be recruiting more minority students?
Emory as an organization has to create a diverse and inclusive environment. In the context of the classroom, we have to create a curriculum that addresses and speaks to the diversity and global awareness. I'm eager to understand what the tradition has been around attracting students of diversity to the business school context. Promoting diversity also means attracting a diverse faculty team.
Before it's here, it's on the Bloomberg Terminal.
LEARN MORE