Did Retrophin's CEO Share More Than Good Cheer in Twitter Posts?
Paul M. Barrett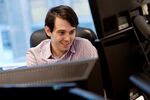 Martin Shkreli, a precocious and controversial short seller of biotech stocks, made a most unusual career move and took the ultimate long position by starting a publicly traded drug-development company. The story of his new company, Retrophin, was the basis of a feature profile in Bloomberg Businessweek last month.
"Has Shkreli undergone a conversion, as he claims, to creating value and saving lives?" I asked in the piece. "Or is he using what he learned in biotech—a field notorious for empty promises—to game the field?" One longtime Shkreli investor, Alan Geller, called him "a high-risk, high-reward play." Geller also told me: "I'm betting he's going to make a billion dollars rather than blow up."
As I noted in the profile, the 31-year-old Shkreli has something of a Twitter habit. He writes voluminously on the social media platform about everything from his affection for pop singer Katy Perry to his company's latest financial deal. Now some of his Twitter activity is raising serious questions. My Bloomberg News colleague C. Thompson does an excellent job of describing Shkreli's latest Twitter adventure, putting the episode into context:
Back in April 2013, the SEC said OK, fine. You can post materially important information about your company on social media as long as you make the public aware that this stuff might wind up there. This was after Netflix Chief Executive Officer Reed Hastings made comments on Facebook about the company's viewership levels, and it created a bit of a buzz.

Yesterday, Retrophin CEO Martin Shkreli … may have tested the boundaries. It was a coy Twitter message at first, asking his followers if everyone was 'having a nice day.' This was at 3:40 p.m., presumably New York time, because the company is based there.

Why, yes, Martin. And you?

A follower, @ColfaxCapital, replies to Shkreli, "youre such a kind man :)" at 3:42 p.m.

The next tweet from Shkreli: "this is one of the best days of my life!" That was also at 3:42 p.m.

Was he talking about the company's hiring of Stephen Aselage as president? Could have been. But that was announced via Business Wire a full day earlier, at 8:30 a.m. on May 28. Then another follower, @ASeizew, writes, "yes thanks. Going to buy 1000 shares of $RTRX through my Schwab account right now to celebrate it." That was at 3:45 p.m.

Wait, what? Celebrate what?

At 4 p.m. the stock was halted.

At 4:41 p.m., almost an hour after his kindness on one of Shkreli's best days led to the celebration, what surely would seem to be material information for the company crossed the wire.

*RETROPHIN IN U.S. LICENSE PACT FOR THIOLA (TIOPRONIN)
*RETROPHIN BOOSTS FORECAST
*RETROPHIN SEES 2014 REV. $30M – $35M, SAW $20M – $22M

And so on. The shares, which had settled at $12.88 in regular trading, down $1.05, or 7.5 percent, shot up to close to $17 in after-market trading

Why had @ColfaxCapital felt Shkreli was so kind? All he had done is ask if people were having a nice day. Was the question Shkreli asking also a statement? What was the "it" that @ASeizew was celebrating?
That's a good question. Maybe I'm missing something, but it sure seems like Shkreli was giving his Twitter followers a special heads-up that something material was happening at Retrophin. I e-mailed Shkreli to ask him what was going on with his tweets. His answer: "I think the [Bloomberg News] journo who wrote this is a moron. LOL."
I decided to give him a second chance and asked him to stop LOL and respond to the suggestion that his tweeting was an improper form of disclosure or signaling. Here's what he said then:
"I think it's ridiculous. I've cc'ed my attorney—with the hiring of two major executives and other positive news we've had recently, I am in high spirits, I don't know if anyone wants to interpret 'best day of my life' as MNPI [material nonpublic information]. The media contributes to blowing these things out of proportion. I understand my personal twitter account is followed by a lot of investors, but if they want to divine too much out of meaningless statements, let them. I've struggled a lot over the years and everything has been coming together lately, hence the comment."
This much is clear: Shkreli is never boring.