$1 Billion to Make Los Angeles's Concrete River Lush Once Again
By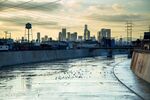 The Los Angeles River, with its 51 miles largely coated in concrete, is about the least rivery-looking river you can imagine. It can be a torrent, but there are times when hardly any water flows through it at all, leaving it to seem more like a piddly stream encased in a massive basin. The river, though, got a major boost yesterday when the U.S. Army Corps of Engineers, which oversees infrastructure in the nation's waterways, said it will support a $1 billion plan to help return parts of the river to its natural state.
The waterway was once a lush place.
But starting in the 1930s, the Corps began paving it over in an attempt to control flooding, with the concrete channel acting like a storm drain that swiftly whisks water out to the Pacific. A few parts have remained riparian, with sandy bottoms that allow plants to grow.
But most of it now looks like this:
The new plan calls for restoring the habitat and building new recreational access along an 11-mile stretch that roughly runs from Griffith Park to downtown Los Angeles.
There are many reasons why community groups and the city have spent decades working to rehab the river. First, there are the environmental benefits: When the city gets precious rain, the river currently redirects the water to the ocean rather than finding ways to let it reabsorb into the ground like a traditional watershed. There are recreational reasons to hope the river could provide a sliver of green space for walks and water for fishing and kayaking in the core of the city. And then there's an economic rationale: Los Angeles is one of the most unaffordable housing markets in the country, and making the areas around the river more desirable opens up more space for development. (Whether that would actually help low-income residents has been a source of tension in the debate over the river.)
The Corps initially supported a plan that cost about half as much but was the most modest of the three main options under review, providing the least new infrastructure for recreational use and renewal of the local ecosystem. Mayor Eric Garcetti recently lobbied President Obama and the Army Corps in D.C. to back the most ambitious proposal, apparently with some success.
Getting the Corps's buy-in is just one step, but it's a big one. The $1 billion price tag will be split by a mix of city, state, and federal funds, so it requires congressional approval. Garcetti told the Los Angeles Times that he's optimistic at least some funding could come through as early as next year, unleashing jackhammers to start breaking up the concrete beds almost 80 years after they were first poured.
Before it's here, it's on the Bloomberg Terminal.
LEARN MORE