Why Google, Comcast, and AT&T Are Making Power Utilities Nervous
Utilities face a threat from Google, Comcast, and AT&T
by , , and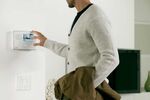 In a conference room with a sweeping, floor-to-ceiling view of the snow-capped Wasatch Mountains, Todd Pedersen, chief executive officer of Vivint, sips cold-pressed juice and explains how the home security company he founded in 1999 has gotten into the electricity business by plugging into rooftop solar and digital energy management. "It helps," he says, "that we're competing against an industry that isn't particularly evolving." Based in Provo, Utah, Vivint is in the vanguard of tech, cable, and phone companies, including Google, Comcast, and AT&T, that are challenging the 100-year-old regulated utility model. Their digital portals into millions of U.S. homes are becoming back doors to the roughly $400 billion retail power market.
"The battleground over the next five years in electricity will be at the house," says David Crane, CEO of NRG Energy, whose company has made large investments in solar and is facing off against established utilities. "When we think of who our competitors or partners will be, it will be the Googles, Comcasts, AT&Ts who are already inside the meter. We aren't worried about the utilities, because they have no clue how to get beyond the meter, to be inside the house." Collaborating with Comcast, Crane's NRG is running a trial in Pennsylvania that adds electricity to the traditional cable, phone, and Internet triple-play package.
Vivint's business plan exploits the company's large home-security customer base—800,000 homes across six states and the District of Columbia—to lease rooftop solar arrays. Vivint, which was bought by private equity giant Blackstone Group in 2012 for $2 billion, installs the solar equipment for free. Customers sign contracts to buy the power their systems generate at rates as much as 30 percent lower than the local utility. In just two years, Vivint's solar unit accounts for 9 percent of all new rooftop solar installs in the U.S.
Because its customers are still hooked up to the grid, Vivint is able to sell any excess power back to the utilities under state-mandated net metering programs. Vivint and others are also learning how to deploy smart technology that can consolidate energy savings from millions of homes and businesses. Vivint offers a security system that incorporates computerized energy-conserving features—including the ability to set thermostats and control appliances. Utilities can contract with home-automation companies like Vivint to get their customers to defer the use of big appliances or turn down their air conditioning units during peak periods, helping utilities avoid power outages or the need to buy power on the spot market to make up for shortages. Consumers like it because they get paid for saving energy.
Google, which holds a wholesale power license, remains coy about its energy ambitions. Yet it's already a power generator through its more than $1.4 billion invested in clean energy. In February, Google acquired Nest, which makes a "learning thermostat" that can be adjusted via mobile phone and helps homeowners get a better grip on their energy usage. That $3.2 billion deal "ought to give utility officials a sinking feeling in the pit of their stomachs," says Adrian Tuck, CEO of Tendril Networks, an energy services management company based in Boulder, Colo. AT&T entered the smart thermostat market last year.
"The next 10 years are going to change the electricity industry more than the past 100," says Patty Durand, executive director of the SmartGrid Consumer Collaborative, which counts utilities and tech companies among its members. "Consumers will be the recipients of attention, instead of the way utilities have treated them for the past 100 years." Power in the U.S. has begun to flow both ways.
Before it's here, it's on the Bloomberg Terminal.
LEARN MORE