U.S. July 4th Celebration in Moscow Moved for Security
Jason Corcoran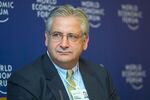 The American Chamber of Commerce in Moscow, citing security concerns, is moving its annual July 4th celebration out of the city center as tensions grow with the U.S. over Ukraine.
"It's precautionary," Alexis Rodzianko, the chamber's president, said in an interview in St. Petersburg. "When the mood is as affected as it is, you don't want to antagonize people who are looking for excuses to be antagonized."
The annual Moscow event, held since 1995, is the largest U.S. Independence Day celebration outside the U.S., according to the American Chamber's website. For the last two years, it has been held in Krasnaya Presnya Park in central Moscow, about 10 minutes by foot from Russia's White House government building.
The U.S. is considering tougher sanctions as efforts to force Russia out of global financial markets are seen as President Barack Obama's best counter to the country's threats against Ukraine. The U.S. already imposed sanctions on more than two dozen individuals and St. Petersburg-based OAO Bank Rossiya.
McDonald's Corp. in April closed its restaurants in Crimea, citing supply issues, a move seen as a snub in Russia for its annexation of the Ukrainian peninsula, which prompted U.S. sanctions. The deputy speaker of the Russian Parliament, Vladimir Zhirinovsky, called for protests to drive the Big Mac maker out of the country, a campaign backed by 62 percent of Russians, according to a poll by SuperJob's Research Center.
Rodzianko, a former banker who now represents members, including McDonald's and Citigroup Inc. in Russia, said he hasn't detected anti-Americanism here.
"We haven't felt it at all, but there is enough silliness going around," he said. Rodzianko said the celebration would be moved outside the city to as yet an undisclosed location.
Last year's event featured a military brass orchestra, a mechanical rodeo ride, a re-enactment of the American Revolution, sports tournaments for children, pony rides, a cheerleading class, magicians, a video art zone and a vintage car display.
Before it's here, it's on the Bloomberg Terminal.
LEARN MORE