Traders Side With Credit Suisse on Rate Bet: Andes Credit
Andrea Jaramillo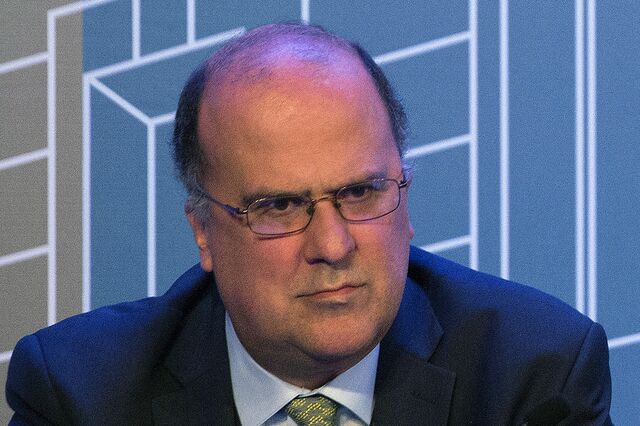 Colombian traders are signaling they won't be surprised this time around.
A month after the central bank unexpectedly boosted benchmark borrowing costs, swaps show investors are assigning a 96 percent probability to an interest-rate increase when policy makers meet tomorrow. The likelihood has soared from 40 percent since the government said May 5 that annual inflation accelerated to 2.72 percent, the highest since November 2012 and exceeding the median forecast in a Bloomberg survey.
While slowing growth has prompted policy makers in Chile, Mexico and Peru to cut rates or keep them at record lows, Colombia's economy is poised to expand more than 4 percent for a third straight year, leading analysts to ratchet up forecasts for consumer price increases. Banco de la Republica will be "very sensitive" to inflation data, according to Juan Lorenzo Maldonado, a Latin America economist at Credit Suisse Group AG.
"With inflation coming in stronger than expected and activity also robust, it makes sense to deliver another rate hike," Maldonado said in a telephone interview from New York.
Swaps indicate the central bank will lift its key rate by a quarter-percentage point to 3.75 percent, in line with the median forecast of 23 analysts in a Bloomberg survey.
Policy makers led by Governor Jose Dario Uribe voted 6-1 on April 25 to raise borrowing costs by a quarter point -- the first increase in more than two years.
Inflation Outlook
The central bank's press office declined to comment on economists' rate forecasts in an e-mail.
Colombia's economy will expand 4.5 percent this year after growing 4.3 percent in 2013, which was the fastest among major Latin American peers after Peru, according to the median forecast in a Bloomberg survey.
Consumer prices will rise 3.19 percent by year-end, which would be the highest annual rate since June 2012, a central bank survey published May 12 showed. That compares with a forecast of 3 percent in April.
"Changes in inflation expectations are vital to the central bank," Munir Jalil, the head analyst at Citigroup Inc.'s Colombia unit, who correctly predicted last month's rate increase, said by telephone from Bogota. "If they start to rise, it's something that worries them."
Andres Langebaek, the head analyst at Banco Davivienda, said the central bank will leave borrowing costs unchanged tomorrow as it seeks to limit gains in the peso.
'Better Sense'
The peso has soared 7.4 percent in the past three months, the most in the world after the Somali shilling, according to data compiled by Bloomberg. It gained 0.2 percent today to 1,906.29 per dollar.
"Higher interest rates mean a higher yield differential and that could attract more flows from abroad," Langebaek said by telephone from Bogota. Policy makers "bought themselves time with the hike. Now they can take a step back and see the impact, and get a better sense of where inflation is going."
Yields on three-month interest rate swaps have jumped 0.14 percentage point to 3.74 percent since May 5.
Citigroup's Jalil expects consecutive rate increases until Banco de la Republica reaches 4.25 percent in July.
"There really is no argument to justify a pause," he said. "There is no sign of a deceleration. On the contrary, the economic recovery continues."
Before it's here, it's on the Bloomberg Terminal.
LEARN MORE