The Murky Status of the Looming L.A. Clippers Sale
By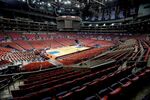 Update 9:40pm: According to a person familiar with the situation, former Microsoft Chief Executive Officer Steve Ballmer has signed an agreement to buy the Los Angeles Clippers for $2 billion. ESPN first reported the agreement. The person says Shelly Sterling signed the agreement "on behalf of the family trust" that owns the team. Donald Sterling has not signed it. The agreement, the source says, will go straight to the NBA for approval without Donald's signature. The league declined to comment on any agreement between Shelly and Ballmer. Expect further twists and turns.
To assess the current state of play in the pending sale of the Los Angeles Clippers requires liberal use of question marks and the conditional mood. It changes by the hour and depends on which party you ask. By the time this paragraph is done, somebody probably will have leaked a memo saying that controlling owner Donald Sterling has agreed to sell half the team to a group led by Larry King.
At the risk of instant obsolescence, here's what we know:
1. Shelly Sterling is trying to sell the team. Donald's wife—communicating through her lawyer, Pierce O'Donnell—claims she has permission from her husband "in writing to negotiate the sale of the Los Angeles Clippers, including his 50 percent ownership of the team." The NBA also received a letter from Donald, signed on May 22, stating that he authorizes Shelly to negotiate a sale. Shelly, according to Bloomberg News, set a 5 p.m. deadline on Wednesday for bids and received five, including from former Microsoft Chief Executive Officer Steve Ballmer, a group fronted by former NBA All-Star Grant Hill, and a group that includes Larry Ellison, David Geffen, Oprah Winfrey, and Guggenheim Partners.
2. The NBA still plans to hold a hearing on June 3. This is the date set for the league's owners to meet and discuss the charge against Sterling and to vote on whether to terminate his ownership—and, along with it, Shelly's. The most recent statement from NBA spokesman Mike Bass, sent in an e-mail on Wednesday, says the league "will meet on June 3 at 1 p.m. in New York City to hear and vote upon this matter." Shelly's swift pace in soliciting bids is an attempt to have a buyer in place before the meeting and perhaps forestall a vote. The owners will probably vote anyway, because …
3. Donald Sterling is rattling his saber. After his May 22 letter, Sterling formally replied to the NBA's charges against him with a 32-page declaration of war, a copy of which has been obtained by Bloomberg. USA Today has one you can read here (PDF). The reply calls the charges against Sterling a "sham" based on "a purely private conversation with his lover" and says that no court will enforce the league's "draconian penalties." His lawyer, Max Blecher, told ESPN on Tuesday that any agreement with Shelly is null. "I don't know what agreement she has with him," he said, "but I'm saying to you today, he disavows anything she's doing to sell the team."
This leaves several important questions unanswered. If Shelly lines up a credible bid before June 3, would the league allow the sale to proceed? Would the owners still hold a vote? On Monday, NBA spokesman Bass told the New York Times that "it would be a preferred outcome if the Sterlings were to voluntarily transfer 100 percent of the ownership in the team to new owners, rather than to have their ownership in the team terminated."
At this point, however, any buyer has to worry about a legal challenge from Donald. Or maybe Shelly convinces him to sell. Or maybe he convinces her to fight. Or maybe Shelly's sale offering is a delay tactic to create confusion while they fight the league together.
Before it's here, it's on the Bloomberg Terminal.
LEARN MORE