The End of a Poofy Era: Jessica McClintock Stops Making Prom Dresses
by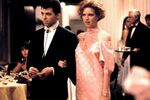 Ah, prom. That one magical night when you wedge your feet into your first pair of uncomfortable strappy heels, curl your hair into too-tight ringlets that your mom swears will "fall" into beautiful waves (lies! All lies!), and then get whisked away in your date's family minivan to the school gym or local Marriott where you hold sweaty hands and shuffle around the dance floor. His rented tux doesn't fit quite right and you're wearing a sherbet-colored Jessica McClintock dress that makes you look like a cake decoration. The DJ plays Seal's Kiss From a Rose something like nine times and then your friend Ashley spills "punch" all down your other friend Tiffany's dress. Is that your idea of prom? Congratulations, you're old. And so is Jessica McClintock, which is partly why she's retiring.
Teenagers aren't into the Molly Ringwald fantasy anymore. (They also don't know who Molly Ringwald is.) They're into sleeker, sultrier, and—at a certain price point, anyway—designer dresses, from John Galliano to YSL to a bunch of other labels you couldn't afford, even with that after-school job that forced you to walk two miles uphill in the snow just to rent people VHS copies of Heathers at Blockbuster.
Prom is now a $4 billion industry, with a good chunk of that money going directly to girls' dresses. According to a 2012 Visa study, parents spent an average of $1,087 on a child's prom. Those with more limited budgets can find a designer knockoff online, or shop the capsule collections that large retailers offer with increasing regularity; last year Marchesa released a line of $70-$250 gowns for J.C. Penney. Today's long prom dresses are clingy and the short ones are really, really short—which leaves 83-year-old McClintock's old-fashioned heart-shaped necklines, tulle skirts, and puffy sleeves languishing on the heavily discounted sales racks, all but ignored.
According to Refinery29, last year McClintock's company made $100 million—but that's down from 1994, when it pulled in an inflation-adjusted equivalent of $232 million. In November, the company shuttered its last remaining stores. From here on out, it will only produce merchandise under licensing agreements.
So let's take a minute to mourn the loss of our youth, the cast of Beverly Hills 90210's youth, and the end of Jessica McClintock, who pleased our mothers by somehow convincing us it was cool to swaddle ourselves in an entire sofa's worth of fabric.
Before it's here, it's on the Bloomberg Terminal.
LEARN MORE