Thailand's Latest Coup May Scare Away Investors
Political instability may steer investors to neighboring nations
By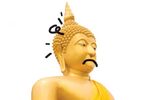 Thailand, once prized in Southeast Asia for its relative economic stability, is in danger of inheriting the "Sick Man of Asia" tag. The latest coup by the military to end a stalemate between Yingluck Shinawatra's government and its opponents threatens to send investors scurrying to other countries in the region.
The economies of Vietnam, Indonesia, Malaysia, and the Philippines are expected to grow more than 5 percent this year, while Thailand, whose gross domestic product shrank by 0.6 percent in the first quarter, may fall into a recession. Credit Suisse Group recently forecast that Thai stocks will underperform other markets in the region for one to three years, saying the May 22 "coup leaves investors little reason to stay." Moody's Investors Service estimated that economic growth could drop 2 to 3 percentage points from its precrisis 4.5 percent if the political instability lasts for a year.
Other Asian economies are becoming more attractive. In Indonesia, pro-business candidate Joko Widodo is the front-runner in the July presidential vote; the Philippines is forecast to report its ninth straight quarter of 6 percent-plus growth; and Vietnam is taking steps to loosen its grip on state enterprises. "Countries like Vietnam and the Philippines are snapping at its heels and may overtake Thailand," says Frederic Neumann, co-head of Asian economic research at HSBC Holdings in Hong Kong. "The constant change in leadership and policy," he says, is "taking a cumulative toll on Thailand's economy."
Even the country's biggest state pension fund is looking for better returns elsewhere. The Government Pension Fund is buying shares in India, Indonesia, and the Philippines, according to Sombat Narawutthichai, the fund's secretary general. True, Thailand has overcome military takeovers, natural disasters, and downturns in the past. The economy, however, is in worse shape than in 2006, when the last coup took place, says Christian de Guzman, a vice president at Moody's in Singapore.
Sony, Panasonic, and Hitachi are among companies advising workers against traveling to Thailand, while the number of tourists and business executives arriving in the country dropped 4.9 percent in the first four months of 2014 from the year before. Thailand's state planning agency is forecasting that total domestic and foreign direct investment may fall 1.3 percent this year from an earlier prediction of a 3.1 percent increase. "This coup has come at a difficult time," says Edward Teather, a Singapore-based senior economist at UBS. If the political climate doesn't improve, "Thailand will miss growth opportunities."
BOTTOM LINE -
The bottom line: Thailand's latest coup may trigger a recession and prompt foreign businesses to shift investment to Asian rivals.
Before it's here, it's on the Bloomberg Terminal.
LEARN MORE