Tech Stocks Undo the Damage
By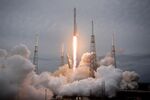 The technology-stock slump has been canceled. After losing 7.5 percent in the five weeks following March 5, the tech-heavy Nasdaq 100 Index has rebounded to pull even with the broader stock market. They've both returned 4.3 percent on the year, with dividends included.
That's not to say the entire tech sector is trading frothily. While Facebook is now up 16.3 percent since Jan. 1, shares of Twitter have lost almost half their value, as have those of Groupon. Apple has climbed 11.3 percent, but Amazon has declined 22 percent.
The recovery has restored some paper wealth to the billionaires who control Silicon Valley companies. Facebook's Mark Zuckerberg added $908 million to his haul on Tuesday, bringing his total for the year to $3.8 billion, according to the Bloomberg Billionaires Index. Elon Musk, who heads Tesla Motors and SpaceX, is $2 billion richer.

While tech stocks were lagging in the public markets, valuations kept surging in private, as pre-IPO startups showed little difficulty in lining up huge funding rounds from venture capital firms. Uber Technologies Chief Executive Travis Kalanick told a California tech-conference audience on Wednesday that the amount his company is raising "could be record-breaking," referring to a widely reported $17 billion valuation.
Technology "was a sector that just fell out of favor over the last couple of weeks and got probably cheap enough that it looked like, on a relative value, to be the place to put money," Bill Schultz, the chief investment officer at McQueen Ball & Associates, told Bloomberg News.
Before it's here, it's on the Bloomberg Terminal.
LEARN MORE