pursuits
Taco Bell's Secret Recipe for New Products
The fast-food chain keeps cooking up innovations, like its Waffle Taco
By
One Saturday morning in January 2013, Heather Mottershaw was at home scrolling through status updates on Facebook when a photo caught her eye. A friend had uploaded a picture of his soon-to-be-devoured meal at a restaurant, which Mottershaw describes as a folded-over waffle sandwich filled with eggs and avocados and other fixings you'd expect in a Southern California meal. "I went, huh, that's an interesting idea," she says.
Mottershaw, director for product development at Taco Bell, ran out and picked up a box of generic waffles and started to ponder what to do with the sweet, grid-marked cakes. "I brought the waffles in Monday morning at 7 a.m. and just started playing with them in the kitchen," she recalls. By taking the frozen waffle, leaving it to thaw at room temperature, folding it, and flash frying it in Taco Bell's chalupa baskets, she ended up with a crispy waffle in the shape of a taco shell. By 9 a.m. it was stuffed with eggs, sausage, and cheese and being evaluated by executives at Taco Bell's Irvine (Calif.) headquarters. "As soon as the team started to see it," she says, "there was this instant excitement, this buzz that this is a cool idea, this is a big idea."

Mottershaw's creation, the foundation for the aptly named Waffle Taco, became the centerpiece of Taco Bell's nationwide breakfast launch this past March. Although breakfast is expected to contribute less than 10 percent of the chain's sales early on, most of that business will be additional sales rather than a cannibalization of existing traffic. Taco Bell estimates about 22 percent of all fast-food breakfast customers tried its new breakfast menu in the first week.
Chains such as Chipotle Mexican Grill and In-N-Out Burger may rely on a stable menu of popular items, but Taco Bell engineers a constant rotation of products in hopes of not only keeping consumers coming back but also uncovering the Next Big Thing. Explains Chris Brandt, chief marketing officer: "We want to be the leader in food innovation and believe there is no finish line when it comes to being first and staying relevant."
Crafting a breakfast hit is lucrative. "In recent years breakfast has been the fastest-growing day part for the industry," says Sanford C. Bernstein analyst Sara Senatore. "Dinner traffic has declined, and lunch has been flat. So exposure to that [morning] business is a positive for sales growth."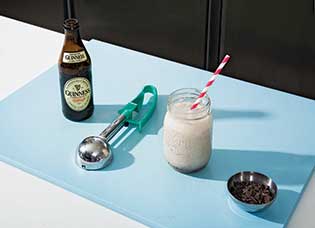 Taco Bell's innovation team looks at 4,000 to 4,500 ideas every year, of which 300 to 500 are tested with consumers. (The beer milkshake being developed for the company's new American-style restaurant concept, U.S. Taco Co., which will open this summer, shows just how far the product researchers will go.) Only about 8 to 10 new products make the Taco Bell menu nationally each year. But food industry researcher Datassential estimates that including products in testing and all permutations—for example, counting a new burrito twice if it comes in chicken and steak versions—Taco Bell launches dozens of items each year.
This keeps the 40-person innovation team busy and well-fed. "We eat all day long," says Elizabeth Matthews, Taco Bell's chief food and beverage innovation officer. "Sometimes, before 10 a.m., I'm sure I've had 3,000 calories." To counter the resulting so-called Taco Bell 12 (pounds), there's a well-equipped gym on site that also hosts about 20 exercise classes weekly.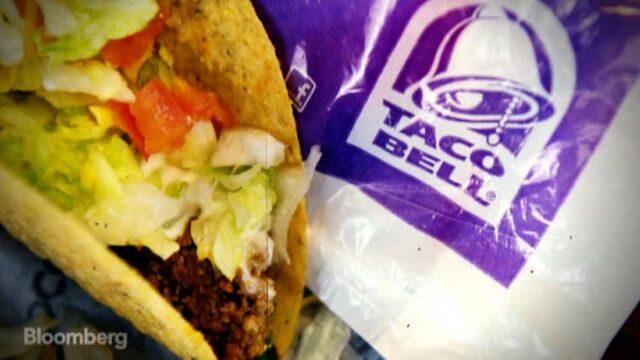 In search of ideas, the product developers mine social media, consider new ingredients, and track rivals. Some Fridays the team does what they've dubbed a "grocery store hustle" to see what's new in retail. But the basic pillars of anything they develop remain taste, value, and speed, Matthews says. The less a restaurant has to change its kitchen operations, ingredients, or equipment, the better.
The developers come up with a prototype, then start testing it with consumers in the lab and in test restaurants. The typical product goes through about 100 iterations by the time it is launched. The Waffle Taco, for instance, was changed 80 times through various characteristics such as shape (square, oval, and rectangular waffles, eventually settling on one with flat sides and round ends), weight, thickness, intensity of vanilla flavor in the shell, and fillings. Once Taco Bell finds a product that works, it develops variations for future launches: Its popular Doritos Locos Taco has grown to include new taco shell flavors and different fillings.
It's a formula that's worked well for the chain, which saw same-store sales climb 8 percent in 2012 and 3 percent in 2013. Taco Bell accounts for 21 percent of profits at parent company Yum! Brands, which also owns KFC and Pizza Hut. Taco Bell Chief Executive Officer Greg Creed got promoted to CEO of Yum! Brands effective Jan. 1, 2015.
Getting the word out about any new product on social media is key for Taco Bell, which targets young adults. The chain maintains a robust presence on Twitter, with more than 1.2 million followers—double the number for Wendy's and Burger King in the U.S. A meeting room at headquarters called the Fishbowl has a wall covered by 12 screens that constantly display online conversations about the brand. One day in late May, Taco Bell had been mentioned 1,600 times in an hour.

While the Waffle Taco has drawn the most buzz among the morning menu items, according to the company, it hasn't been the best seller. That honor goes to the A.M. Crunchwrap, a hexagonal tortilla pocket filled with an entire hash brown patty, eggs, cheese, and bacon. The chain is already testing other quirky combos to add to the newly hatched breakfast menu, including a Quesarito—a breakfast burrito, tortilla and all, wrapped inside a quesadilla. "Nothing is out of the question," says Mottershaw. "I think if you haven't jumped the shark, you haven't gone far enough."
Before it's here, it's on the Bloomberg Terminal.
LEARN MORE