pursuits
Pepsi's New Soda Machines Bring the Test Lab to the Customer
By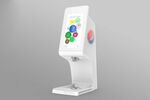 The average beverage is developed within the confines of a company's marketing department or the precincts of its innovation team before getting tested with consumers. Now the soft drink industry is taking the flavor experiment beyond the walls of a test kitchen. Following Coca-Cola's rollout of a soda fountain called Freestyle in 2009 that allows consumers to mix their own beverages, Pepsi is introducing its own version, called Spire, across the U.S.
"All of the units we're deploying are what we call 'smart equipment,'" says Pepsi spokesman Jeff Dahncke. "We can gather real-time insights and identify popular beverage customizations. Over time, this will allow us to tailor specific offerings based on consumer preferences." The largest Spire machine can mix more than 1,000 combinations using not only the company's soda brands, but also its iced teas, lemonade, and other drinks, along with shots of flavors such as lime and vanilla. Coca-Cola said it decided to roll out Fanta Cherry in supermarkets because it found the concoction was a popular selection on the Freestyle, which can dispense 146 flavors, according to USA Today.
As Americans opt for healthier, less-sugary soft drinks and seek new flavors, do-it-yourself soda fountains are a convenient way to assess exactly what they want. Research potential aside, the bells and whistles—using a touchscreen to customize a drink—have distinct appeal for millennials. Pepsi views the new machines as way to increase restaurant sales, too. "Nowadays people can customize almost anything," Dahncke says. "A growing number of foodservice operators are looking to partner with us on innovation that taps into this trend and helps them grow their business."
Pepsi has been experimenting with various prototypes overseas for several years and began testing them in the U.S. last year. The Spire system, which started rolling out in certain markets earlier this year, is now expanding nationally. There are currently about 20,000 Freestyle dispensers, which reportedly use more expensive flavor cartridges than traditional fountain machines.
Before it's here, it's on the Bloomberg Terminal.
LEARN MORE