Japanese Part-Time Women Workers Have Had Enough
Miho Marui's campaign against wage discrimination shakes up Japan's vast part-time economy
By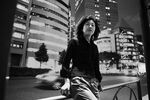 Miho Marui isn't exactly sure how she wound up standing on top of a bus on a wintry Tokyo day in 2009, staring up at the 35-story headquarters of KDDI. Yet there she was, hands trembling as she shouted at her bosses through a loudspeaker. Co-workers pressed against the windows to watch her pick a fight with Japan's second-largest phone company over labor practices at one of its subsidiaries. "I guess I was just mad," says Marui, a trained marine biologist and University of Tokyo graduate, who together with a friend started Japan's first union for temporary and part-time workers. Marui has drawn unflattering attention to the treatment of the country's mostly female temporary labor force. In April a Tokyo court recommended a settlement for a wage-discrimination lawsuit she and others filed in late 2010 against the subsidiary, KDDI Evolva.
In the U.S., the inequality debate has focused on the wealth gap between the richest 1 percent and everyone else. In Japan, the lines are drawn between those with full-time jobs and an estimated 20 million temporary workers. Full-time status in Japan (known as seishain) is something like college tenure in the West. It more or less guarantees a job for life, often with subsidized lunch at the company cafeteria and allowances for housing and commuting. The biggest benefit is legal protection backed by decades of court rulings against dismissal in the majority of cases.
The number of lifetime jobs has been declining for decades; according to government data, part-time positions now make up almost 40 percent of the workforce. These jobs also earn on average 38 percent less per hour than full-time positions. Temps and part-timers—who often work 40 hours a week—accounted for all of the nation's job growth in the past five years; 60 percent of employment offers in March were for temporary positions.
The rise of this part-time economy explains why Japan is the only developed country where the average pay has consistently fallen, dropping 15 percent since 1997. In the country's rigid labor market, temp work is rarely a steppingstone to something better. It's a permanent, low-wage existence. "It's Japan's biggest problem," says Yoshio Higuchi, a professor of economics at Keio University and head of a government panel on labor-market reform. Higuchi says the decline in the proportion of well-paid, full-time jobs available to Japanese workers is inextricably linked to many of the country's other economic ills: deflation, higher poverty rates, lower economic productivity, even depressed birthrates. Parents don't want their children to marry temps, banks won't give them home loans, and employers don't want to spend money training them.
Marui ended up becoming a temp mostly by being in the wrong place at the wrong time. When she got out of school in 1995, the country's overheated economy had already collapsed. The Nikkei 225-Stock Average had lost more than half its value from its 1989 peak, and Japanese employers, who prefer to recruit straight out of college, weren't hiring. Because she'd loved her childhood fishing trips with her father, Marui entered a Ph.D. program in marine science at the University of Tokyo. She got a master's degree before deciding academia wasn't for her. In 2000 she spotted a want ad in the newspaper. KDDI Evolva was hiring operators for its international call center. The jobs were advertised as offering the opportunity to transition into full-time work, according to Marui and another woman she worked with, Yoko Mitome .
In the early postwar years, working as an operator was considered a plum job for a Japanese woman, on par with being a flight attendant. Perfect diction and mastery of the Japanese language's complex spoken honorifics were prized skills. "Tour buses used to stop in front of KDDI's headquarters, and guides would say, 'This is where Japan's best-paid women work,' " Mitome says.
By the time she and Marui joined the company, though, the era of mobile phones and the Internet had arrived, and KDDI, once Japan's sole international phone service (the K stands for kokusai, or international), was remaking itself. The operators were caught in the middle. KDDI Evolva, the wholly owned subsidiary that employed the women, kept Marui and Mitome on short-term contracts that rolled over year after year. Operators were rarely promoted to full-time jobs; only 8 percent of the unit's 15,000 employees are full-timers, according to its website. KDDI Evolva declined to comment, citing the pending court case. Mariko Ara, a spokeswoman for the parent company, also declined an interview request, writing in an e-mail: "KDDI cannot respond to questions about labor practices at KDDI Evolva because the two companies are separate legal entities."
At the office, Mitome says she was drawn to Marui, probably for the same reasons Marui's bosses didn't like her. "She stuck out," Mitome says. "She was better educated than everyone else, and they knew it." Over drinks after work, they started to wonder why, early in their tenure, some operators were forced to reapply for their jobs after three years. Marui and Mitome say they concluded that KDDI Evolva wanted to save money by resetting pay and vacation to entry-level rates. They were also miffed that the temp operators had to be at their desks five minutes before the 7 a.m. shift started.
In November 2005, Marui took her misgivings—and pay slips—to the Tokyo Labor Bureau's Shinjuku office, a short walk from the call center. Within two months, KDDI Evolva was ordered to pay back wages for the five minutes Marui had been required to work without compensation each day. The bill came to 50,000 yen ($492) for two years. After a few more months, all of the operators were paid.
Marui claims KDDI Evolva cut her hourly rate by 10 yen (10¢) to 1,450 yen, offering no reason and despite dozens of employee-of-the-month awards she'd received. A month later, in August 2006, KDDI announced on its employee website that it was halving extra temp pay allowances for early, late, and weekend shifts and would also stop paying commuting costs, Marui says. Profit at KDDI had slipped 5 percent the previous fiscal year, but the stumble came after a fifteenfold increase in earnings over the four years before that. Full-timers didn't lose their benefits.
Marui, Mitome, and 21 other temps formed a union in November of that year to protest. During the next 18 months, they petitioned politicians and told lawmakers about the conditions female part-timers faced. They held demonstrations and handed out thousands of leaflets at train stations. On May 6, 2008, a popular news show, Gaia No Yoake, ran a profile of Marui that was watched by more than 4 million Tokyo households, according to Video Research.
KDDI Evolva shut the Tokyo call center in October 2010 and moved the operation to Okinawa, where wages are the lowest in Japan. Marui and Mitome lost their jobs. They and seven other women filed suit against KDDI Evolva on Dec. 24 of that year—"a little Christmas present," says Mami Nakano, their lawyer. The suit demanded reinstatement and back pay for the difference between the operators' wages and those of full-timers. Nakano argues that KDDI Evolva kept the women on temporary contracts to limit their rights, not because their work was temporary, Nakano says. Attorneys for KDDI and the Evolva subsidiary declined to comment. KDDI Evolva filed court papers challenging the allegations.
On April 3, three years and four months after the case was filed, a Tokyo District Court recommended a settlement: one year's severance for each of the plaintiffs. In Marui's case, that's about half the roughly $50,000 she petitioned for. Courts are less protective of nonregular employees—68 percent of whom are women—because they're considered a buffer that helps preserve full-time jobs, says Machiko Osawa, director of the Research Institute for Women and Careers at Japan Women's University in Tokyo. She says the law hasn't caught up with the reality that many temps are primary earners for their families.
Other wage-discrimination cases have been filed this year. On May 1, four part-time women workers sued Tokyo Metro, the capital's subway operator, for $425,000 in back pay and damages. A week later, three temporary workers at Japan Post, the nation's postal service, sued for violation of equal pay laws, saying their salaries were a third lower than those of full-time employees doing identical jobs.
After KDDI Evolva, Marui bounced between three more temporary jobs before landing at U.S.-based life insurer Aflac. It's another contract position at another call center, but a step up because the pay is monthly instead of hourly. That means her salary no longer shrinks during the holidays or if she's ill. In February, Aflac gave her a year's contract extension. "That counts as super long-term in this day and age," Marui says.
BOTTOM LINE -
The bottom line: Part-time and temp workers, about 40 percent of Japan's labor force, get paid 38 percent less per hour than full-timers.
Before it's here, it's on the Bloomberg Terminal.
LEARN MORE