Philippine Customs Is Getting Scared Straight
A former Goldman trader fights to eradicate corruption
By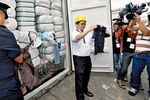 Jamail Marohomsalic, a Bureau of Customs official in the southern Philippine city of Davao, shuffles his feet and bows his head when his boss tells him he's being investigated as part of an anticorruption drive. "That's your signature, right?" demands Commissioner John "Sunny" Sevilla, pointing to a form that allowed the release of 20,000 tons of imported plastic resin priced at 29 percent less than the government's benchmark. Marohomsalic, who denies any wrongdoing and says the shipments had been cleared by the bureau, is surrounded by colleagues from the Davao customs office as Sevilla continues: "This is not just against you. I've initiated an investigation into every employee who's violated our rules."
Sevilla, 45, is the third customs commissioner appointed to fight graft since President Benigno Aquino III took office in June 2010. A former Goldman Sachs trader in Hong Kong, Sevilla is turning his analytical skills to spotting anomalies in imports and chasing smugglers who Aquino says cost the government more than 200 billion pesos ($4.6 billion) a year. Sevilla took office in December; the bureau's revenue from import duties has risen 20 percent from a year earlier.
"The customs bureau is like a bag of water with 100 holes in it, and water is gushing out of that bag in places we don't even see," Sevilla said in an April 29 meeting with brokers, importers, and business groups, including the American and European chambers of commerce in Manila.
With two years to go in his presidency, Aquino is counting on appointees such as Sevilla to break the grip of corruption that has limited the country's development and growth for four decades. Success could mean more than $14 billion a year in additional revenue to fund construction of roads, schools, and homes in a nation where almost 10 million people live below the official poverty line.
Sevilla is responsible for policing the borders of a country with more than 7,000 islands and the world's fifth-longest coastline, where it's easy to land illegal shipments of goods or bribe port officials to undervalue imports so duties are lower. He analyzes the valuations of rice, steel, resin, and other items, averaging the prices declared by importers to set the benchmark used to determine duties. "People weren't even analyzing data six months ago," Sevilla says. "It's fascinating from a management point of view: How do you attack 100,000 transactions a month, each of which has 50 different parts which could affect your ultimate tax payment? And you're not even sure of the quality of your data."
The Philippines limits imports on many goods, such as rice, and forbids shipments of products like used cars. Importers trying to avoid the limitations will often bring in more than is permitted, bribing officials to clear cargo. The illegal shipments have likely resulted in understated import data since 2007, misrepresenting the amount of the country's current-account surplus and undermining the peso, according to recent reports from Deutsche Bank and Credit Suisse. There's a big gap between what the Philippines says it imports and what trading partners such as Japan, South Korea, and Taiwan say they ship to the country, Credit Suisse said.
Sevilla has tried to tackle the problem by suspending the trade permits of some companies and import brokers, clamping down on illegal shipments, and setting up a public price database of frequently imported goods to make it easier to spot irregularities. More than 800 secondhand vehicles, including Hummer trucks from South Korea, have been seized since December, according to the bureau.
"Fixing the customs seems like an impossible task, but when you've got an action guy who won't tolerate corruption, maybe it can happen," says Astro del Castillo, a Manila-based managing director at asset management firm First Grade Holdings, which invests in businesses including oil and gas exploration companies. Equipment shipped to the Philippines for those companies has been held up by customs officials seeking bribes, del Castillo says. "Sevilla may be just the man for this job."
Aquino's efforts to clean up government have paid off. By raising tariffs on cigarettes and liquor, pursuing tax evaders, and targeting corrupt customs and tax officials, he has boosted government revenue, which is up about 40 percent in 2013 from 2009. Last year the Philippines' economy grew faster than any other major Asian economy after China. Customs revenue, which accounted for 18 percent of government income last year, rose 13 percent in April from a year earlier, to 30.76 billion pesos.
"I was talking to Sunny Sevilla the other day, and the phrase that struck me was this is the first time he's ever been in such a toxic environment where people keep on putting everybody down," Aquino says. "The focus is getting everybody back on the mission, which is to collect the right duties and taxes. The problem is very deep-rooted."
BOTTOM LINE -
The bottom line: Sevilla is analyzing data to spot import anomalies that cost the government more than $4 billion a year.
Before it's here, it's on the Bloomberg Terminal.
LEARN MORE