pursuits
In China, Cruise Lines Hope to Woo Millions of First-Time Guests
Carnival and others are wooing mainland vacationers
By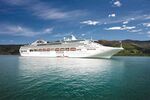 Cruise lines are betting that the growing number of middle class consumers in China are keen to sample chocolate buffets and stroll the Lido deck. And that's leading to an influx of ships being sent to sail year-round from mainland China.
China is expected to be the world's second-largest cruise market (after the U.S.) by 2017, with growth rates far higher than in North America and Europe, the two regions where the industry has historically collected most of its profits. Carnival, the industry's largest player, with 10 brands and more than 100 ships, plans to base four ships in mainland China next year, while also boosting its year-round fleet in Australia. The Asian Cruise Association estimated in a 2013 report that area demand will nearly triple to 3.8 million annual cruisers in 2020, with 1.6 million from China.
"The reality is that the [Asian] market's huge, and it's going to be very significant over the next 10 to 20 years," Carnival Chief Executive Officer Arnold Donald says. "We have never been more committed to China as a market of great strategic importance for our company."
The industry's second-largest cruise company, Royal Caribbean Cruises, surprised many in the industry last month by announcing plans to move a brand new ship, Quantum of the Seas, to Shanghai in May after its inaugural six-month run in New York. Traditionally, the industry has deployed only older ships to Asia—a practice that's likely to wane, given Chinese consumers' demand for equal access to the newest and best amenities from companies vying to break into the market.

Despite China's huge population—and the likelihood that cruise lines will reap higher average rates in Shanghai and Hong Kong than they do for Caribbean itineraries—the industry faces several challenges in developing the market, Donald conceded last Thursday during a conference call with reporters. "The first and largest one is that, of course, the vast majority of Chinese have no concept of cruising, and in a way that's a good thing," he said. "Here in the States and Europe, the people we're dying to attract actually have opinions. They have impressions … they have lots of negative things in their mind yet. In China, they have no concept what a cruise is. You say cruise, and they say 'What's that?'"
Cruising in Asia is also likely to mean shorter sailings, a change from the standard seven-night and 10-night cruise model common in North America. That's due to the shorter annual vacations given many Chinese workers. Dining room times and seatings are also expected to be adjusted for Chinese cruisers, along with figuring out which amenities are most important on-board. For a ship sailing from Japan this summer, Carnival's Princess Cruises division has added a 66-seat sushi restaurant and an enormous bathing complex, to address Japanese consumers' enjoyment of onsen, or bathing in natural hot springs. "But it will all get worked out over time," Donald says. "We intend to be a key part of that.
In Australia, Carnival is transferring two older ships from its Holland America Line, the Ryndam and the Statendam, to its P&O Cruises unit. The ships will increase P&O's Aussie fleet to five ships in November 2015, part of a response to robust passenger growth Down Under, which Carnival says has averaged 20 percent annually over the past decade. Holland America will replace the ships with its largest to date, a 2,660-passenger ship it will receive in February 2016. Royal Caribbean is also increasing capacity in Australia and New Zealand next year.
Before it's here, it's on the Bloomberg Terminal.
LEARN MORE