GM Korea Faces Most Critical Wage Talks Ever, CEO Says
Rose Kim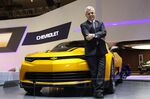 General Motors Co.'s South Korea chief said local labor costs may rise 15 percent, fueling profitability concerns in a country where exporters are already struggling with the won's climb to a six-year high.
"The 2014 wage negotiation is going to be the most critical negotiation we've ever had with the union," Sergio Rocha, chief executive officer of GM Korea, said in an interview at the Busan International Motor Show yesterday. "I'll do everything possible and impossible to guarantee that we have a sustainable future."
Employers in South Korea are bracing for higher labor costs after the country's Supreme Court ruled in December that periodic bonuses and other compensation must be included in workers' base pay. GM Korea, Hyundai Motor Co., South Korea's largest automaker, and its affiliate, Kia Motors Corp., are battling their unions in court over the issue.
"By integrating bonuses and other benefits into the ordinary wage, the labor cost grows substantially," Rocha said. "This is not good for GM Korea, this is not good for the industry, and this is not good for Korea Inc."
Increasing base salaries magnify overall wage costs because they're used to calculate everything from overtime payments to annual raises, Rocha said.
Yesterday, the court remanded a case filed by five GM Korea workers after reversal to the Seoul High Court for retrial, according to Lee Hyun Bok, a judge and director of public relations at the Supreme Court.
$13 Billion Decision
In its December ruling, the court sided with employees of car-parts maker KB AutoTech Co., who first sued their Asan, South Korea-based employer in July 2010 to have the bonuses they receive every other month included as part of their wages. The court left it up to companies and their unions to carry out specifics of the ruling, although it rejected workers' claims that seasonal allowances and welfare benefits should also be included in base salaries.
The decision will translate into at least 13.75 trillion won ($13.5 billion) in added annual labor costs for companies, according to estimates by the Korea Employers Federation at the time.
GM Korea is in the initial stage of annual wage talks, which will include discussions about base wages. Calls to the company's labor union weren't answered.
Rocha said GM Korea, which exports Chevrolet vehicles to countries such as Australia and Germany, was also concerned about the strengthening won. The currency traded at 1,020.35 to the dollar as of 10:59 a.m. in Seoul, near the strongest level since August 2008, undermining profits from South Korean exports.
Stronger Won
The Korea Automotive Research Institute, part of the Hyundai Motor Group, said in a May 26 report that it expects the won's appreciation to accelerate in the second half of 2015, leading to the currency trading at around 900 won against the dollar.
Rocha said the institute's number was higher than GM Korea's own forecast, although he declined to give a number. He said he expected President Park Geun Hye and her economic advisers to control the currency's rise.
"We see an appreciation, but not at that level," Rocha said. "Korea has many big exporting conglomerates and I don't think the economic group of President Park will allow this to get derailed."
Before it's here, it's on the Bloomberg Terminal.
LEARN MORE