Costco Reluctantly Searches the Web for Younger Shoppers
by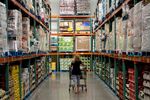 Costco, ever keen to swell its membership ranks, is grudgingly turning to the Internet in search of more millennials.
The big-box shopping club is adding more categories of products to its Web store and has a trial partnership with Google to offer same-day deliveries of Costco wares in New York, Los Angeles, and San Francisco. Costco said it has also started selling memberships via discount and flash-sales sites, such as Living Social and Zulilly. "We're not going crazy here," Richard Galanti, Costco's chief financial officer, said on Thursday's conference call. "We're taking baby steps, but some of this stuff works."
Indeed, Costco posted $561 million in membership fees for the most recent quarter, 6 percent more than in the year-earlier period. The Web push is as much about defense against such e-commerce giants as Amazon as it is an exercise in business development.
Don't expect to see a fleet of Costco delivery drones soon, though. The end-game, according to Galanti, is still luring people into its massive shopping centers, regardless of how long they have until an AARP membership kicks in. "People like to go out and do stuff," he said. "And we're pretty good at getting you in the warehouse."
To that end, Costco will have to keep a steady stream of exclusive products in stock. A few months ago, it was touting its ultra-cheap rotisserie chickens and swelling stock of organic kale. On Thursday, Galanti called out bicycles and kayaks—two items, not surprisingly, that don't lend themselves to free shipping.
"We're open-minded, but don't expect us to go to everybody's doorstep," Galanti said. "Delivering small quantities of stuff to homes is not free. Ultimately, somebody's got to pay for it."
Before it's here, it's on the Bloomberg Terminal.
LEARN MORE