Botox Alone Didn't Fetch a $50 Billion Bid for Allergan
by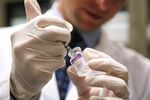 The escalating war of words—and financial offers—for Botox maker Allergan has led to a nearly $50 billion bid from Valeant Pharmaceuticals. Allergan resisted lower offers and is likely to be cool on the latest overture, even with a larger cash component.
Part of the issue in this prolonged pursuit is simply price: Allergan shareholders want at least $180 per share, if not an offer north of $200. That math is based upon the fervid, double-digit annual growth for products derived from Allergan's botulinum toxin, better known as Botox. That includes everything from smoothing wrinkles to relieving acne, incontinence, excessive sweating, and migraine headaches. And the pipeline for future areas where it could be beneficial is promising: premature ejaculation, joint pain, depression, cerebral palsy, and general pain relief.
This month, Allergan celebrated the 25th anniversary of its initial Botox approvals by U.S. regulators, two treatments that were designed to help limit uncontrolled eye blinking and misaligned eyes. The toxin was approved for cosmetic use in 2002, and removing the physical signs of aging has paid off handsomely. Botox is now used to address 27 different medical conditions worldwide, alongside the treatments offered by thousands of plastic surgeons. The division that produces Botox therapies accounts for roughly 80 percent of Allergan revenue.
Yet the Irvine (Calif.)-based company has also diversified beyond Botox therapies, with its biggest chips now sitting on a new drug called DARPin to treat macular degeneration, the leading cause of impaired vision for people over age 60. Allergan estimates that DARPin could be worth $20 billion in sales and prove to be a better treatment than current products from Roche and Regeneron Pharmaceuticals. The drug's early promise prompted Valeant to include, in its latest offer, a contingent value component worth as much as $25 a share. A second drug, Latisse, is designed to promote eyelash growth for people who suffer hypotrichosis, a disease that causes the loss of eyelash hairs.
"Allergan has dug a wide economic moat thanks to its defensible products with strong brand recognition and impressive ability to innovate," Morningstar analyst Michael Waterhouse wrote in a client note on Wednesday. It has also spent heavily on research, which Valeant and some others have criticized as not providing suitable returns and leaving Allergan ripe for cost cuts.
Allergan's largest shareholder, Bill Ackman's Pershing Square Capital Management, owns almost 10 percent of the company and is agitating for the Valeant deal. Allergan said its board will review the new offer, which came one day after it filed a presentation (PDF) with the Securities and Exchange Commission to register its "concerns about the sustainability" of Valeant's business model.
Before it's here, it's on the Bloomberg Terminal.
LEARN MORE