BGC Sued by Broker Who Refused Water-Throwing Initiation Ritual
Kit Chellel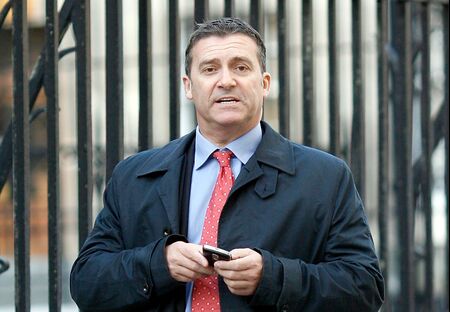 BGC Partners Inc. was sued by a former broker who said he was subjected to a campaign of abuse after refusing to take part in a "boorish" initiation ritual called "the run."
Robert Bou-Simon, who was head of the basis swaps desk in London, said he was mistreated by colleagues and managers, and eventually forced to resign, according to his witness statement at a U.K. employment tribunal yesterday. He also says he was taunted because he was a fan of West London soccer club Chelsea and an Australian rugby team.
The tradition requires "brokers to run across the floor whilst others throw water at them after they complete their first trade," Bou-Simon said. He said the practice was unsafe, citing an incident where an employee was taken to the hospital after colliding with a piece of furniture. BGC said Bou-Simon was subject to disciplinary investigations and had fallen asleep at his desk.
Bou-Simon's refusal to do the run after he joined the firm in 2012 "did not go down well with my colleagues on the floor" who chanted "only real men run," according to his witness statement. Bou-Simon, an Australian citizen, alleged a manager called his behavior "downright un-Australian."
Staff disputes at brokerage firms have escalated into high-profile court battles. In 2011, BGC settled a lawsuit by rival firm Tullett Prebon Plc over claims it poached traders. Those allegations led U.K. financial regulators to impose a lifetime ban on Anthony Verrier, BGC's former executive managing director, who was found to have induced Tullett brokers to break employment contracts.
Bou-Simon, who worked at BGC between 2000 and 2005 before rejoining the firm in February 2012, said in his witness statement that he "was not welcomed with open arms."
Promoted Hate
Colleagues on the trading desk "not only hated me," he said, "but they also promoted that hate throughout the floor."
Robert Hubbell, a spokesman for New York-based BGC in London, declined to comment on the case. Bou-Simon's lawyer didn't immediately respond to an e-mail seeking comment, and the tribunal documents didn't say how much he was seeking in damages. Unfair dismissal claims are normally capped at about 70,000 pounds ($117,000).
Bou-Simon said in the witness statement that U.K. general manager Mark Webster tried to force him out of the firm with disciplinary investigations and by offering him an unsuitable transfer to a BGC unit called MINT. One such investigation began when Webster found Bou-Simon asleep at his desk, which Bou-Simon said wasn't uncommon at the brokerage.
Bou-Simon was "supposed to be an example" to colleagues as desk head, Webster told the tribunal when he appeared as a witness in the case yesterday. Being asleep was "a horrible signal."
Webster denied trying to force Bou-Simon to quit or join MINT, saying they had agreed he would move to the new role. The claim is "absolute nonsense," he said.
Webster didn't immediately respond to an e-mail seeking comment. Bou-Simon now works at Vantage Capital Markets.
Before it's here, it's on the Bloomberg Terminal.
LEARN MORE